West Thumb Geyser Basin, Lake Shore Group
Lake Shore Group adjoins Lower Group, the publicly accessible part of West Thumb Basin, to the north. However, features of Lake Shore Group are not visible from West Thumb Basin Trail. To spot them, you have to head north for the next roadway turnout on the east side of the highway. Fortunately this turnout is very elongated, so there is plenty of room to observe a large section of the group. The thermal area itself is closed to public entry.
Lake Shore Group with Mantrap Cone peninsula and Goggle Spring on the shore of Yellowstone Lake:
West Thumb Geyser Basin, Lake Shore Group
From the roadway turnout Lone Pine Geyser is the northernmost visible feature of the Lake Shore Group. The name-giving lone pine already died in 1988. With water jets up to 23 m (75 feet) Lone Pine Geyser is one of the largest geysers at West Thumb, but it erupts only once every few days.
Lone Pine Geyser:
Lone Pine Geyser
The next notable feature to the south is Occasional Geyser. From a pretty ornamented bowl as well as from an elliptical pool west of it Occasional Geyser plays approximately every 30 minutes up to 3 m (10 feet) high.
Occasional Geyser:
Occasional Geyser
South of Occasional Geyser the lake shore offers two further interesting sights, even if these springs are not named.
Spring south of Occasional Geyser:
Spring farther south of Occasional Geyser: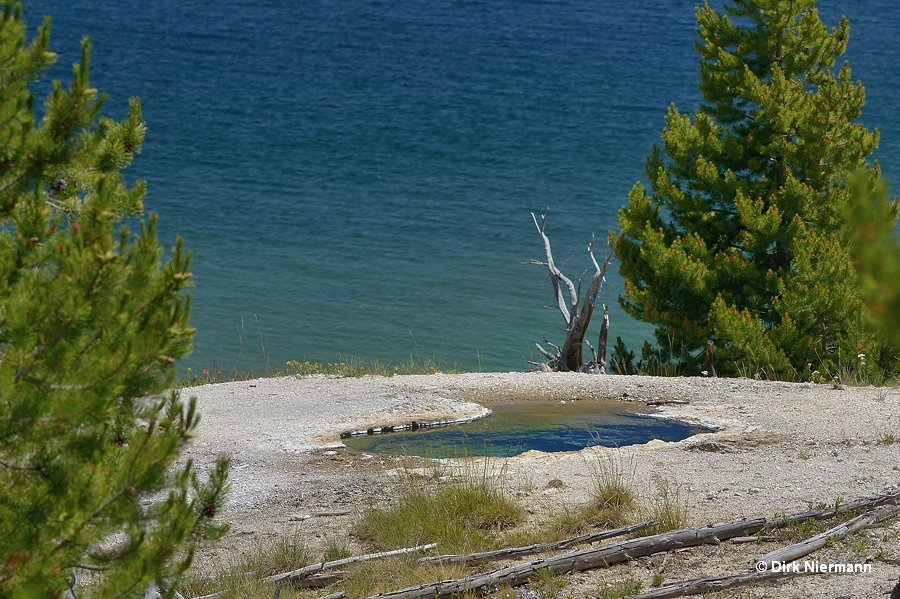 Approximately 250 m ( 275 yards) south of Occasional Geyser the next named geyser appears. Eruptions of Goggle Spring are rare but up to 2 m (6 feet) high.
Goggle Spring:
Goggle Spring Yellowstone
In vicinity of Goggle Spring Mantrap Cone forms a small peninsula. The name of this quiet hot spring origins in the fact that in the past several fishermen, who used Mantrap Cone as a platform were burned by its hot water. Even more horrifying was the misstep of a 36-year-old fisherman from Utah in July 1939, which dispatched him into Mantrap Cone's pool, where he was scalded to death.
Mantrap Cone:
Mantrap Cone, James McFerson

Content and photos on this homepage are protected by law. You may save photos on your Computer, but it is not allowed to use them in any other case without permission of the author. If you want to use photos originated by the author, please ask. Please respect licence conditions of photos of third parties on this homepage.