Upper Geyser Basin, Orange and Round Spring Groups
Orange Spring Group lies diagonally across the paved road from Castle Geyser, Round Spring Group follows on the same side of the road directly before you reach the branch to Daisy Group. Both groups are closed to entry and comprise only a handful of thermal features, some of them located close to the road, others at a larger distance and hard to spot.

The name-giving Orange Spring is consisting of three shallow, merging bowls and occupies the top of a flat geyserite mound. Spouting activity is known, but very rare. In contrast to Orange Spring the small UNNG-OSG-1, informally called Pulsar Spouter, shows perpetual activity. From the road it can be spotted on the far side of Orange Spring.
Orange Spring and Pulsar Spouter: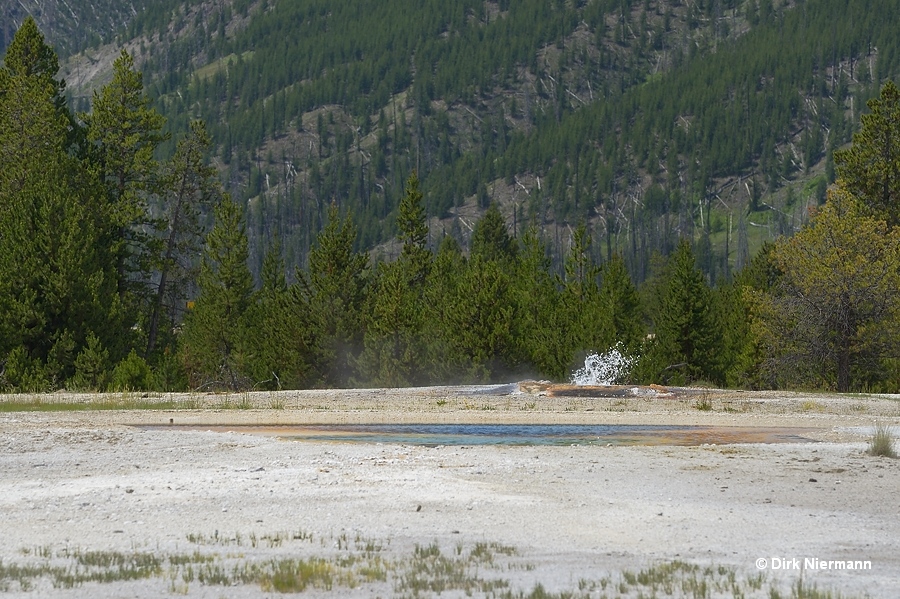 Orange Spring and Pulsar Spouter
The other visible members of the Orange Spring Group are usually rather inconspicuous. In the field between Orange Spring and the road Orange Spring Geyser only shows up if the water level is near overflow or if it is erupting, which is very rare. Closer to the trail UNNG-OSG-2 is to be seen, which was active as a geyser in the 1970s.
UNNG-OSG-2 (the pool in front):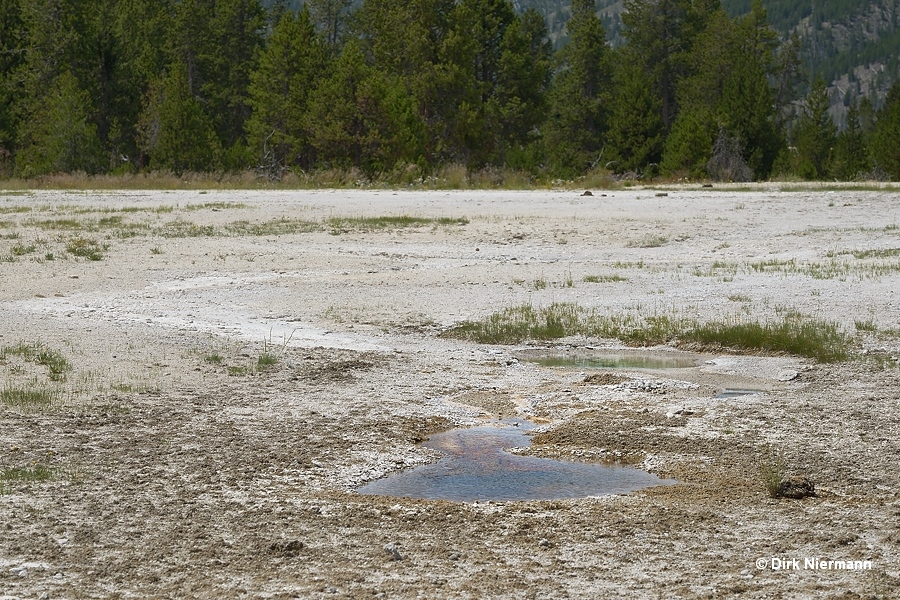 A few feet southeast of UNNG-OSG-2 two unnamed pools lie next to the trail.
Unnamed pools southeast of UNNG-OSG-2:
Coming from direction of Old Faithful Geyser, East Round Spring is the foremost feature of the Round Spring Group. Eruptive activity dates back more than half a century.
East Round Spring:
East Round Spring Yellowstone
Trefoil Spring and the busy Round Spring Geyser are easy to observe, too. The other features of Round Spring Group are hardly to not at all visible from the trail.
Trefoil Spring and Round Spring Geyser:
Trefoil Spring and Round Spring Geyser

Content and photos on this homepage are protected by law. You may save photos on your Computer, but it is not allowed to use them in any other case without permission of the author. If you want to use photos originated by the author, please ask. Please respect licence conditions of photos of third parties on this homepage.