Upper Geyser Basin, Old Faithful Group
Old Faithful Geyser is the main tourist magnet of the Upper Geyser Basin. Large parking lots lie nearby, and the geyserite mound of Old Faithul is halfway circled by serveral rows of benches, to ensure comfort during the time of waiting for the next eruption. Old Faithful is indeed remarkably faithful in its intervals (the time span between the starts of two subsequent eruptions) and also in its eruption heights. Usually the interval varies between 1 hour and 1 hour and a half, the height of the water column between 32 m and 56 m (106 feet - 185 feet). Old Faithful is one of a few geysers with no historical reports of any dormancy. But that wasn't always the case. Yellowstone ranger-naturalist George Marler discovered that 730 +/- 200 years ago a hot spring wiped out a forest on the site of Old Faithful's cone after a long time of quietness. However, geyser activity emerged probably not earlier than 300 years ago.
Old Faithful Geyser: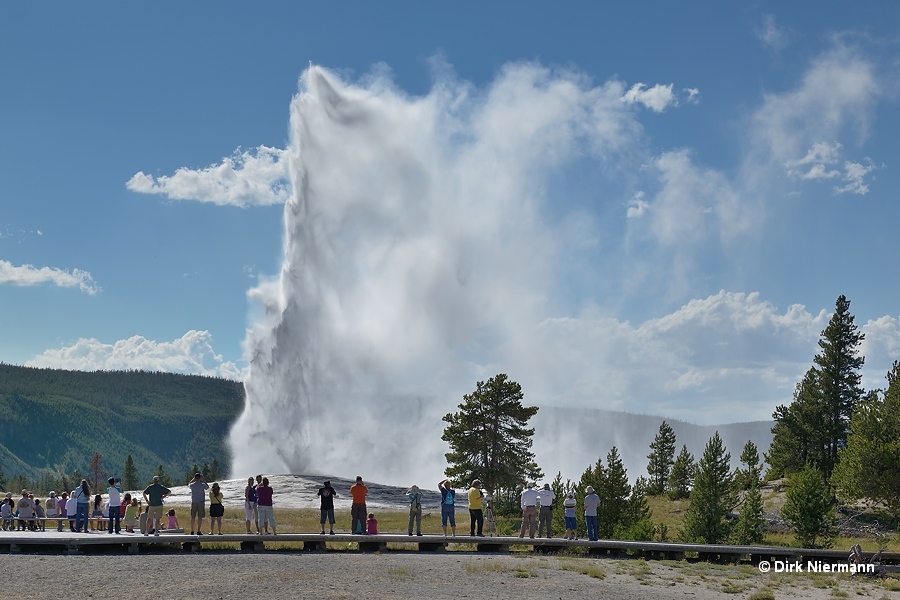 Old Faithful Geyser
Old Faithful's geyserite mound is not very high, but quite massive. On a closer look (from the boardwalk, of course) it exhibits a delicate ornamentation. Unfortunately, park vistors in the late 19th and early 20th century removed quite large amounts of geyserite as souvenirs, leading to a noticeable damaging and loss in height of the cone. In June 1966 it was hit by a lightning bolt and and some people were injured because the discharging electric current traveled along a cable of a monitoring device and leapt to the wet observation platform.
Old Faithful's geyserite mound, close-up:
Old Faithful Geyser
Adjacent to Old Faithful's geyserite mound are Split Cone in the west and Teapot Geyser in the northwest. Both may show weak splashing on rare occasions. On June 27th, 2017 the Old Faithful webcam recorded a spectacular lightning strike on Split Cone, which obviously caused no damage.
Split Cone:
Split Cone
Split Cone erupting:
Split Cone
Further features of the Old Faithful Group are located downslope on the bank of Firehole River. Most eye-catching among them is Blue Star Spring, which is usually quiet, but rarely some splashing has been observed.
Blue Star Spring: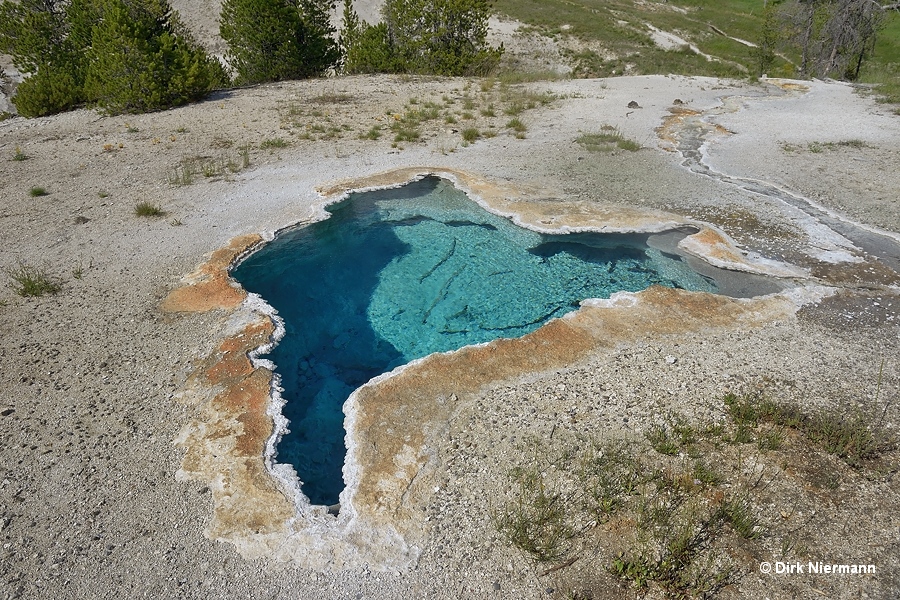 Blue Star Spring
A short distance downstream the boardwalk passes East Chinaman Spring. The runoff of this constantly bioling spring exhibits a lining of pastel green thermophiles, which is rather unusual.
East Chinaman Spring:
East Chinaman Spring
Chinese Spring next to East Chinaman Spring is the last member of the Old Faithful Group. It is rumored that in 1889 four Chinese, who had established al laundry tent over the feature, where blown away by an eruption. Reliable historical sources about the accident are missing, and the only true element of the story may be the fact that Chinese Spring is a rarely active geyser, capable of eruptions up to 6 m (20 feet) height. Nevertheless, the rumor was the reason for naming it Chinaman Spring and later Chinese Spring.
Chinese Spring:
Chinese Spring Yellowstone

Content and photos on this homepage are protected by law. You may save photos on your Computer, but it is not allowed to use them in any other case without permission of the author. If you want to use photos originated by the author, please ask. Please respect licence conditions of photos of third parties on this homepage.