Depression Geyser plays at intervals of approximately 15 hours up to a height of 3 m (10 feet). Between eruption cycles it shows distinctive rising and falling of the water level.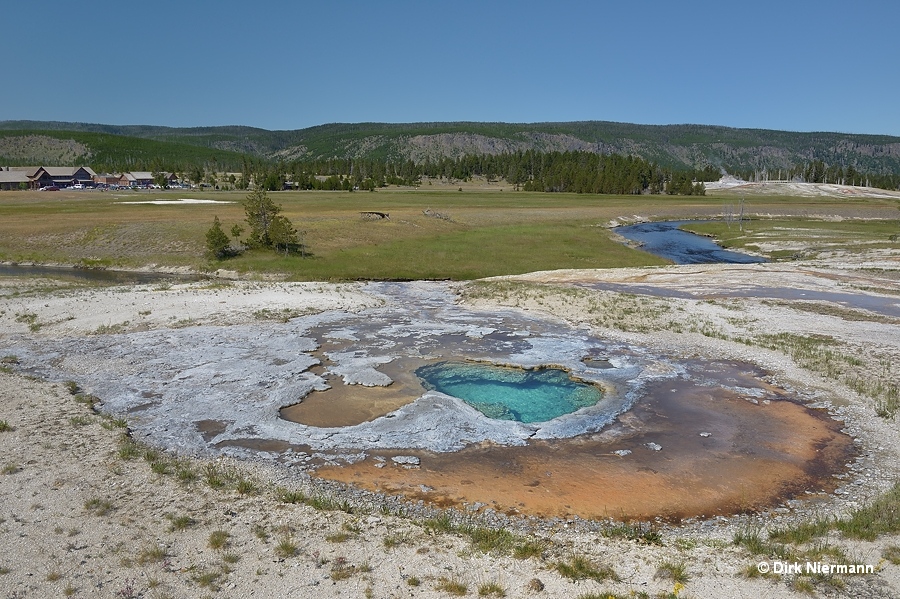 On the east side of the trail the pastel green Copper Kettle shows up, an intermittent spring with no geyser activity.
The two Scissors Springs southeast of Depression Geyser vary in their activity between boiling, overflowing, and small eruptions.
The most impressive frequently playing geyser on Geyser Hill for sure is Beehive. Already its 1 m (3 feet) high, well-shaped and aptly named cone creates a perception of an archetypic geyser. According to the report of the Washburn-Langford-Doane expedition, who also named the geyser in 1870, the orifice of the cone is only 64 by 89 cm (25 by 35 inches) in diameter, resulting in a narrower focusing and stronger acceleration of the water jet as with any other large geyser in Yellowstone. Eruptions, reaching up to 60 m (200 feet) and lasting 5 minutes on average, are usually indicated in advance by a small geyser a few feet away from Beehive's cone. Fittingly, this geyser is called Beehive's Indicator. Less reliable, less high and lesser known are two further indicator springs. Beehive's Second Indicator is sometimes showing up between Beehive's Indicator and Beehive, and occasionally the West Bubblers can be seen splashing beyond Beehive's cone.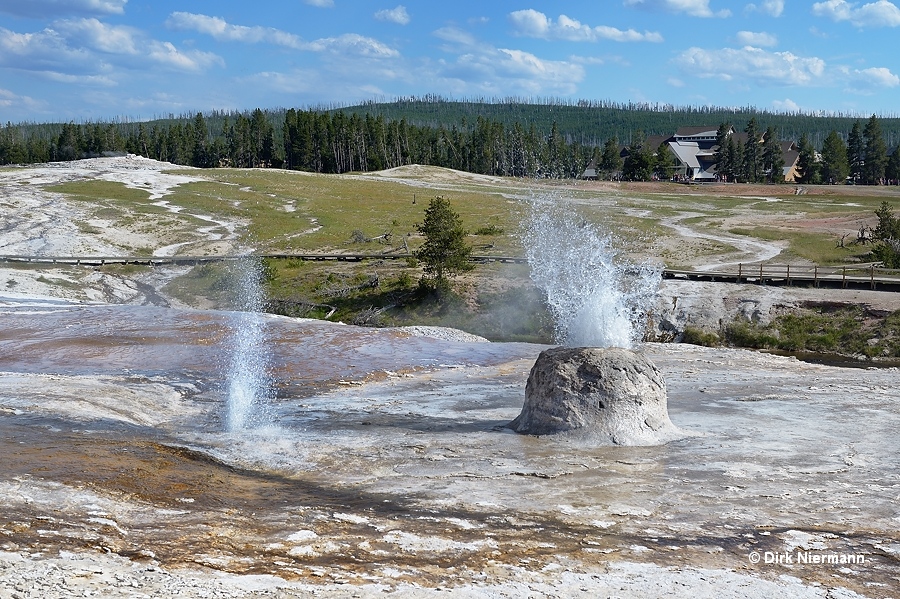 Eruptions of Beehive Geyser are not necessarily a rare sight, but unfortunately its interval is very variable between 10 hours and some days. Sadly, besides Old Faithful and Castle, also Beehive Geyser lost its magnificent nodular geyserite lining by vandalism in the early times of Yellowstone National Park. In the Twelfth Annual Report of the U. S. Geological and Geographical Survey, 1881, geologist Albert C. Peale gave the following description: "It is beautifully coated with beaded silica, which in many places has a pearly aspect."
On the other side of the boardwalk Plume Geyser has a very mixed history. It ranges from highly regular, frequent eruptions via different intervals during day and night through to years of complete dormancy. Unfortunately, the last activity of Plume Geyser was recorded in January of 2013.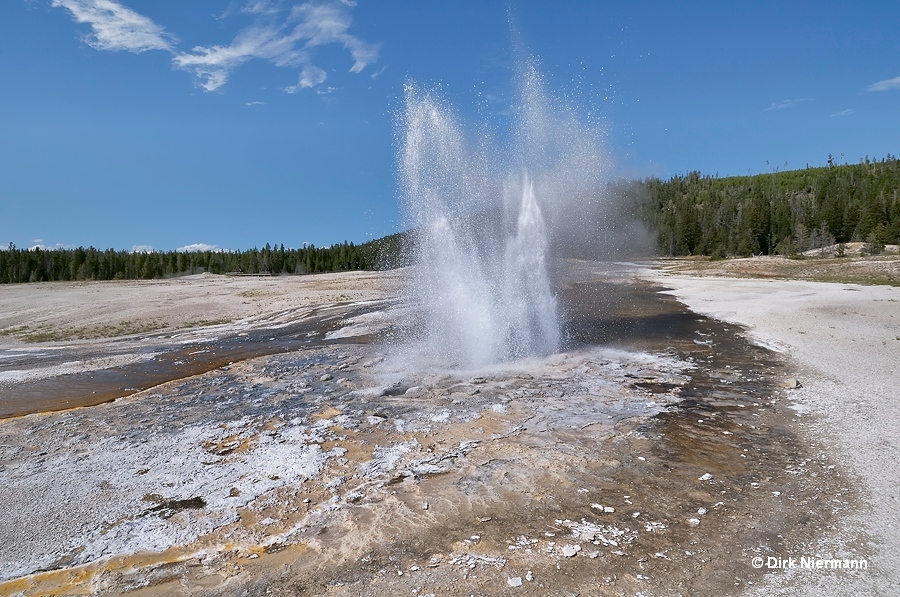 Around Plume Geyser different smaller geysers are to be found, such as Spume Geyser, Spew Spouter, and Surge Geyser. If not erupting, their vents are difficult to spot.
During the last years an unnamed perpetual spouter upslope of Plume has been the most conspicuous feature in this area.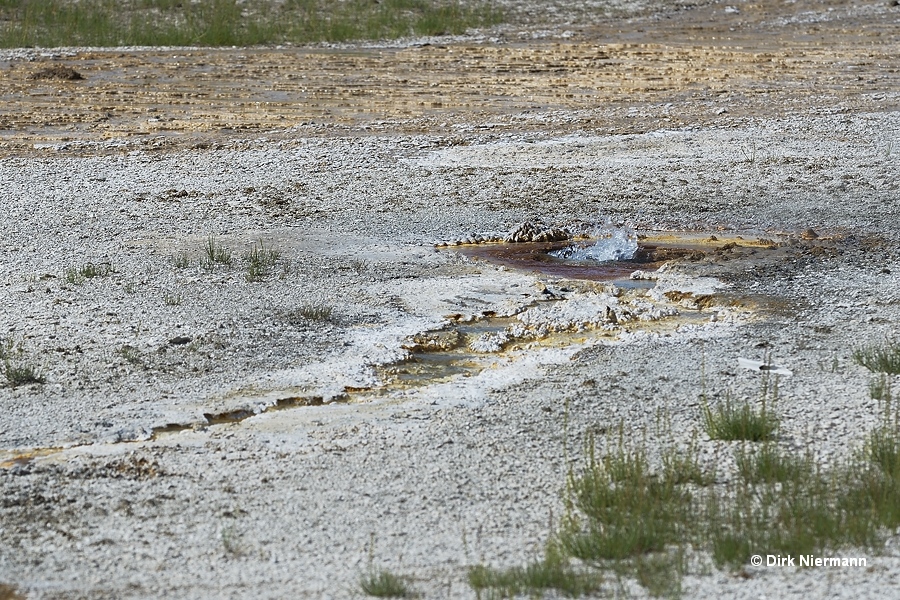 In 2005 a little feature across the walkway from Plume Geyser, informally known as "Pathetic Little Hole", was enlarged by some vigorous eruptions and formed a geyser, now called Improbable Geyser. Nowadays the activity of Improbable Geyser is usually limited to constant boiling. Some higher splashes are often to be observed, though, and rarely even eruptions up to 6 m (20 feet).
Beyond Improbable Geyser on the edge of the steep slope down to Firehole Rivers sits Cascade Geyser. It can be best spotted from the boardwalk on the south bank of Firehole River. Cascade Geyser is an extremely rare performer. The last eruptions were recorded in 1998.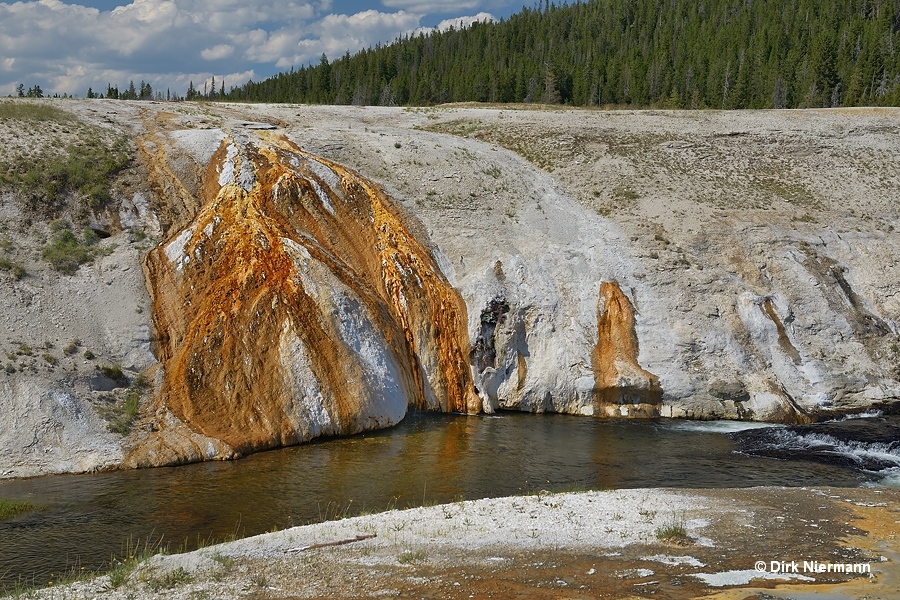 A few feet upslope of Improbable Geyser the gorgeous geyserite lining of the Anemone Geysers catches the eye. Mostly, Big Anemone Geyser in front and Little Anemone Geyser in background erupt separately, though they are connected subterranean. The intervals of both Anemone Geysers are variable, but always rather short. Within half an hour observation time you will have seen most likely each of them erupting once, probably even more than once. The play of Big Anemone lasts always less than one minute, while Little Anemone may have a duration of several minutes.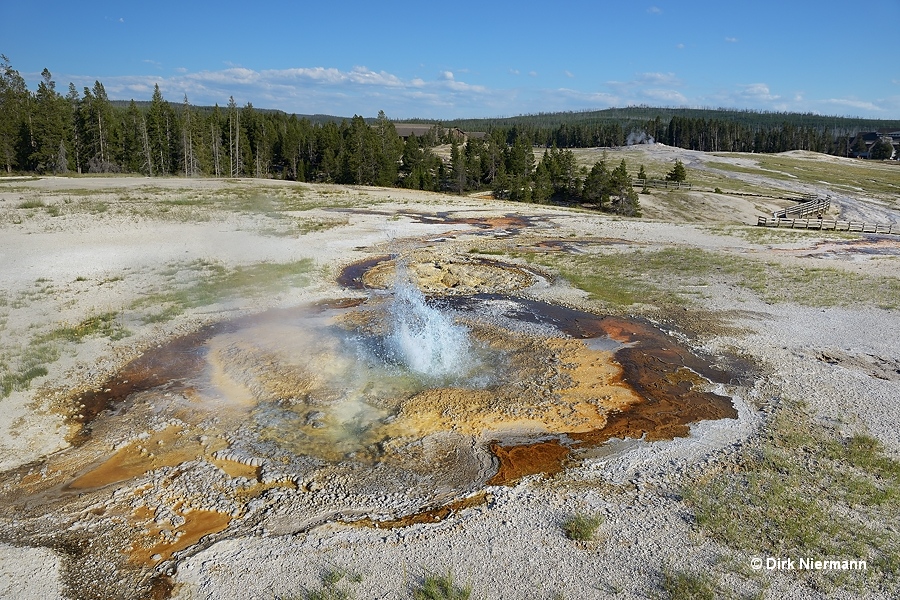 The tiny vent of Little Squirt Geyser southeast of the Anemone Geysers is easy to miss unless it is erupting. Usually the interval between eruptions is in the range of some days, if the geyser is not dormant.
Silver Spring shows a quite similar eruption cycle as Little Squirt Geyser. Water bursts from the crater can reach up to 2.5 m (8 feet) height.
Nearly the same pattern of activity as for Silver Spring can be found for Bronze Spring. Eruptions are usually quite low.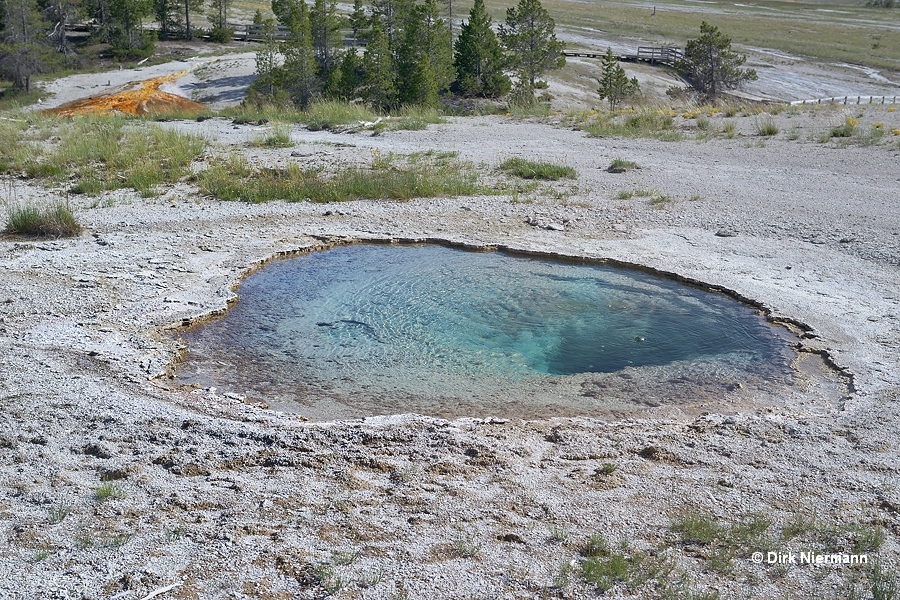 Close to the fork of the trail Sulphide Spring attracts more attention due to the sulfur smell it emits than to the slight boiling, which can be observed sometimes.