Geyser Hill Group - page 2
Across the boardwalk from Sponge Geyser a closer look into an inconspicuous little dark hole reveals stunning, tooth-shaped geyserite formations on its walls. Topaz Spring is named with respect to its topaz-like, intensely red-brown colors. Nowadays it acts exclusively as a fumarole.
Topaz Spring: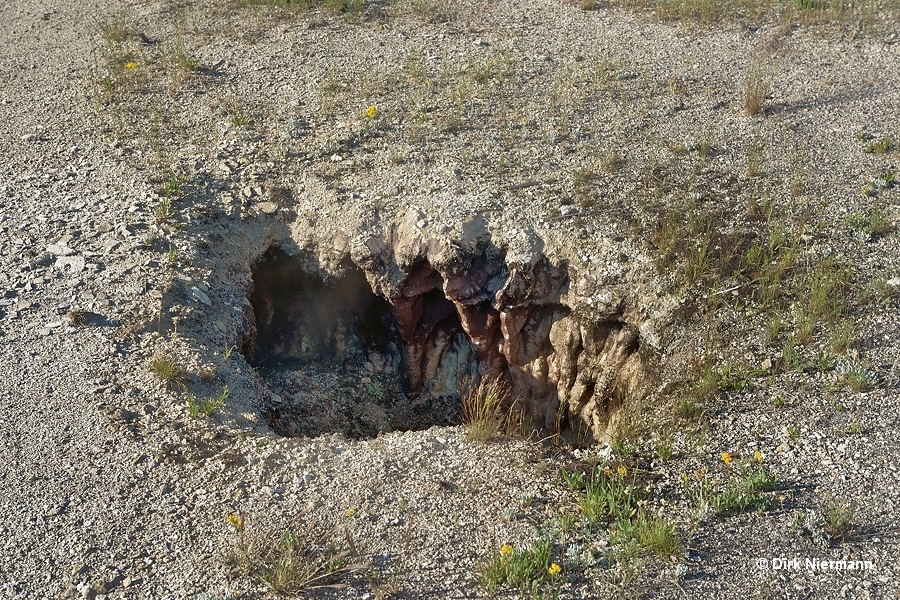 Topaz Spring Yellowstone
A short distance down the boardwalk the almost continuous eruptions of Pump Geyser can be observed.
Pump Geyser: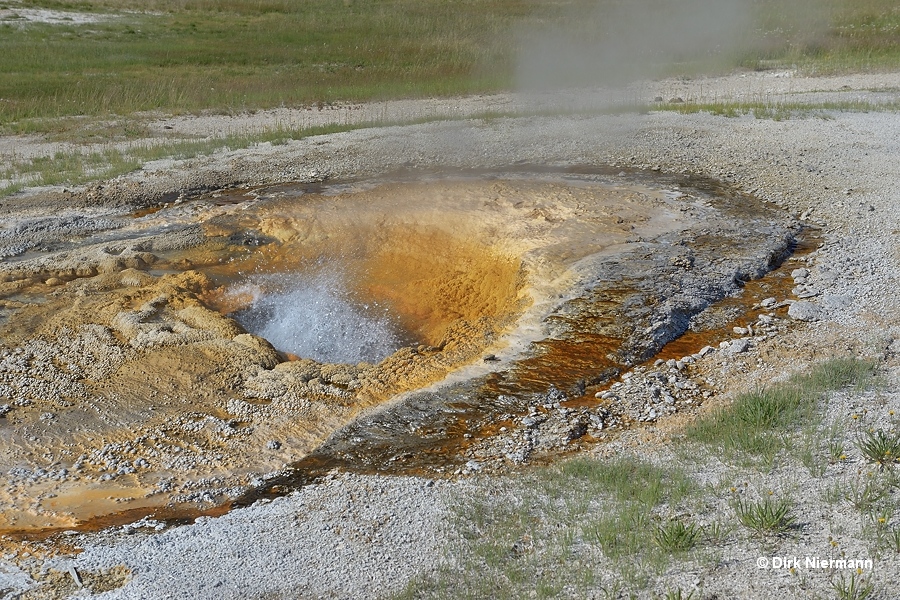 Pump Geyser Yellowstone
In the runoff area of Pump Geyser an unnamed tiny spouter shows up.
Spouter west of Pump Geyser:
Spouter near Pump Geyser Yellowstone
Farther north Doublet Pool displays both fanciful geyserite structures and stunning colors. As an intermittent spring the water level changes around several inches within half an hour.
Doublet Pool:
Doublet Pool
Aurum Geyser is another very impressive feature on Geyser Hill. The name refers to the golden stained geyserite bowl and the adjacent pool, looking like filled with golden coins.
Aurum Geyser:
Aurum Geyser
Up to eight times per day Aurum Geyser jets an 6 - 7 m (20 to 25 feet) high water column at an angle toward the boardwalk.
Aurum Geyser in eruption: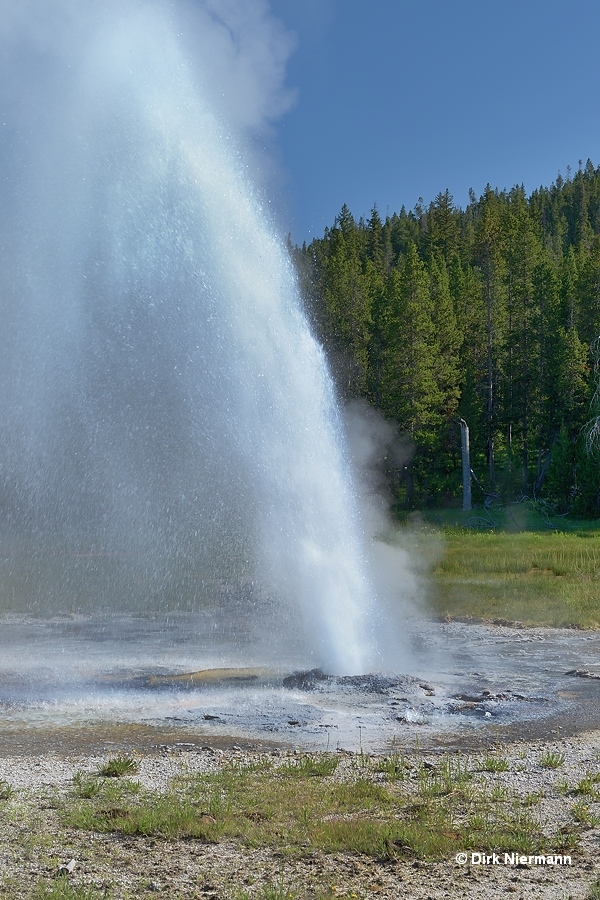 Aurum Geyser
North of Doublet Pool and across from Aurum Geyser two unnamed features appear close to the boardwalk.
Unnamed spring 1 north of Doublet Pool: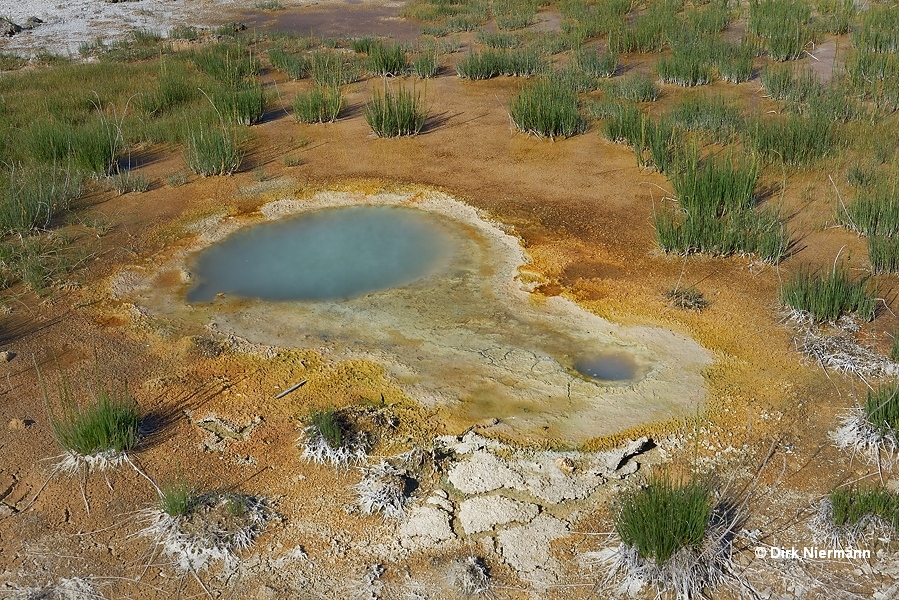 Unnamed spring 2 north of Doublet Pool:
Next, the boardwalk passes Beach Spring. The water in the bowl rises and falls within minutes. In overflow Beach acts as a bubble-shower spring.
Beach Spring at low water level and overflowing (roll mouse over picture):
Beach Spring Yellowstone
Beach Geyser is neighbored to Beach Spring. Simultaneously with UNNG-GHG-7 it is erupting frequently, but only some decimeters (one or two feet) high.
Beach Geyser and UNNG-GHG-7 in background: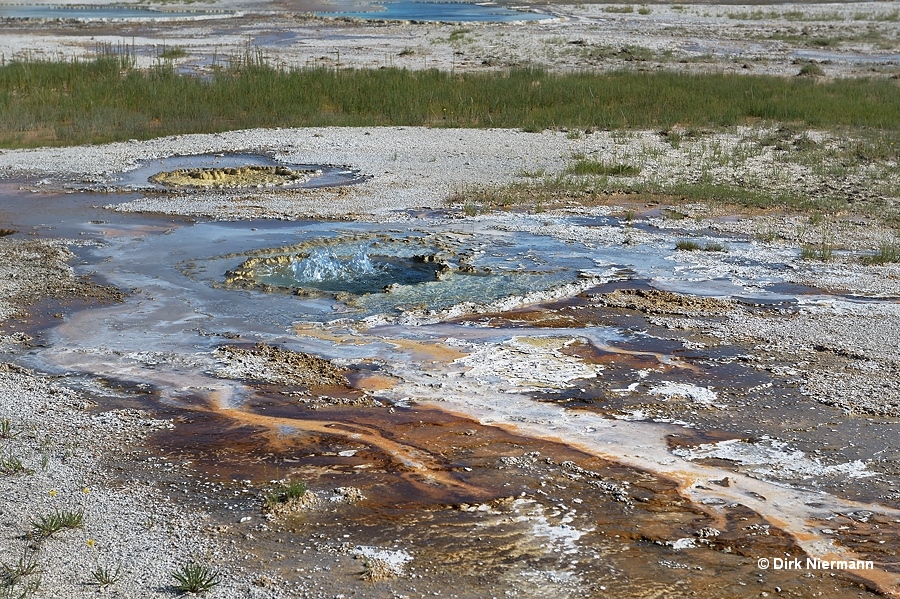 Beach Geyser Yellowstone
Across from Beach Spring the trail to Solitary Geyser branches off to the north. Short behind the fork an unnamed, circular spring shows up.
Unnamed spring near the fork to Solitary Geyser:
Solitary Geyser is well separated from the rest of Geyser Hill Group, hence the name. It erupts up to 6 m (20 feet) high approximately every five minutes.
Solitary Geyser erupting and quiet (roll mouse over picture):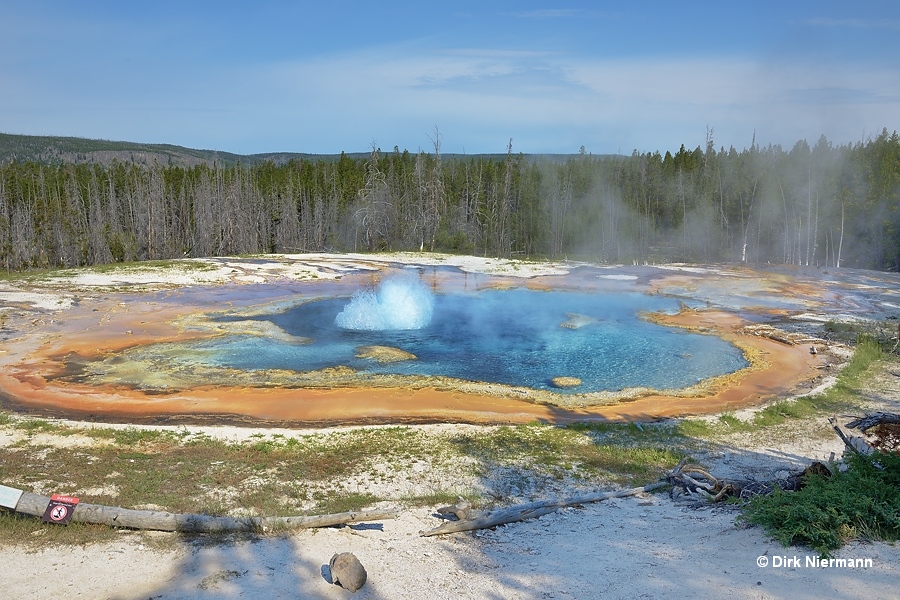 Solitary Geyser
Back on Geyser Hill loop trail the naming of Exclamation Point, a quiet spring, doesn't need any further explanation.
Exclamation Point: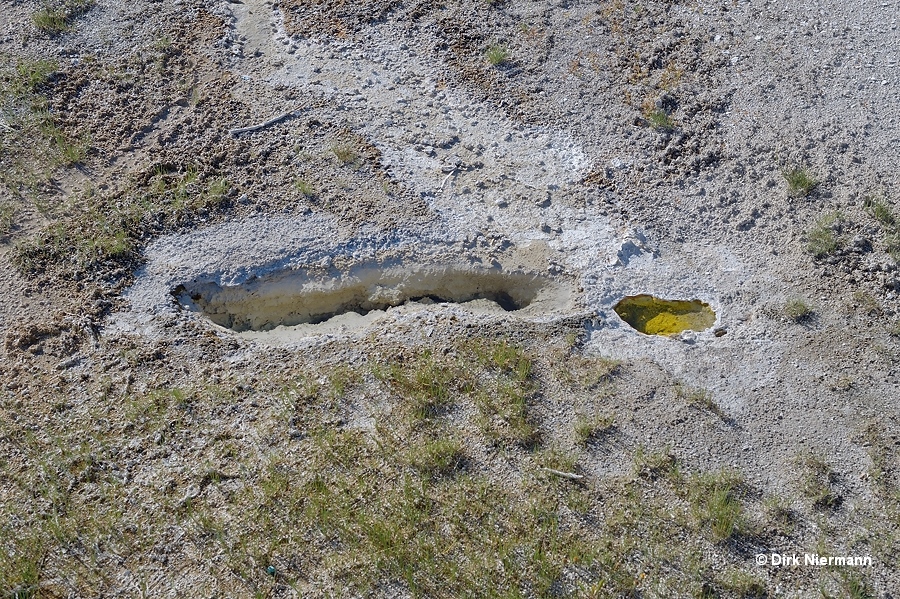 Exclamation Point Yellowstone
A short distance farther west Pendant Spring attracts attention, for which geyser activity before 1987 has been reported.
Pendant Spring: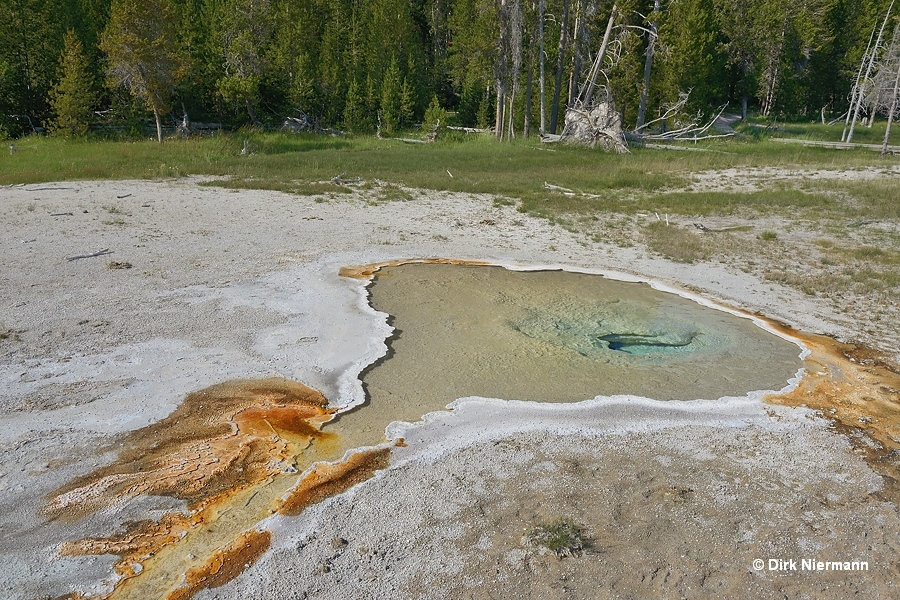 Pendant Spring Yellowstone
True geyser activity also is very rare for the more or less constantly boiling Ear Spring.
Ear Spring:
Ear Spring Yellowstone
Content and photos on this homepage are protected by law. You may save photos on your Computer, but it is not allowed to use them in any other case without permission of the author. If you want to use photos originated by the author, please ask. Please respect licence conditions of photos of third parties on this homepage.