Norris Back Basin - page 2
In the further course the trail leads from the east fork of Tantalus Creek to the west fork and passes several quite similar looking muddy hot pools. The first one is Mystic Spring. Although no regular geyser, weak spouting activity had been observed over many years in the past.
Mystic Spring:
Mystic Spring Yellowstone
Not far away from Mystic Spring very similar Mud Spring showed geyser activity only back in 1984.
Mud Spring (for once in a transparent clear state):
Mud Spring Yellowstone
NBBNN027 west of Mud Spring is a quiet pool at a little distance to the trail.
NBBNN027:
Its neighbor Yellow Mud Spring is confusingly similar to Mud Spring, especially at times when both have the same bluish clouded or muddy gray appearance.
Yellow Mud Spring:
Yellow Mud Spring Yellowstone
It does not necessarily support the ease of identification that Yellow Mud Spring is listed as NBBNN004 in the RCN database, and a different spring shows up under the name "Yellow Mud Spring". But scientific reports as well as historical slides on the Official Website of Yellowstone National Park suggest that the larger spring carries the name. The next photo shows the smaller one, labeled as "Yellow Mud Spring" in the RCN database.
"Yellow Mud Spring" according to the RCN database:
The following features are far better distinguishable. Puff-n-Stuff Geyser constantly emits a mixture of steam and fine spray, whereas real "water-phase" eruptions are very rare.
Puff-n-Stuff Geyser: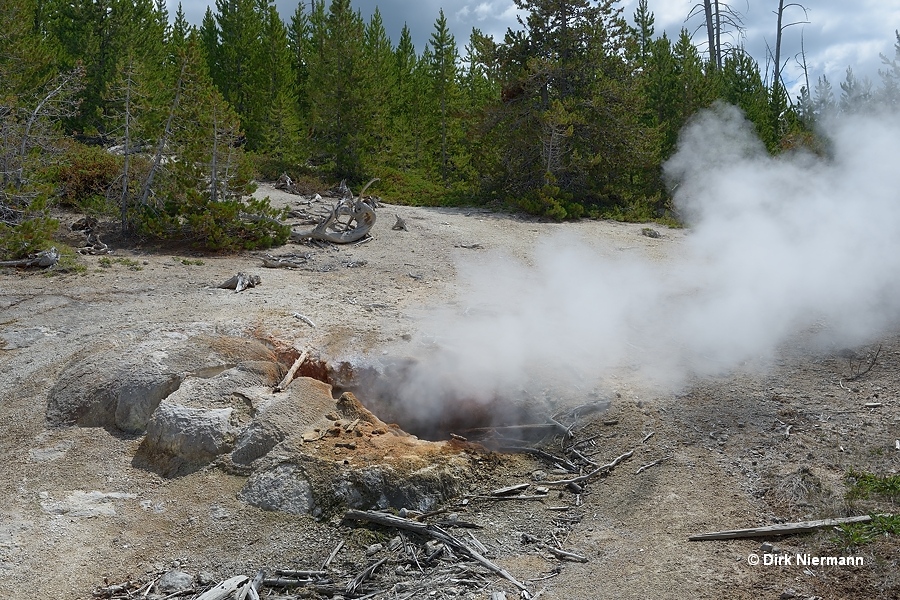 Puff-n-Stuff Geyser
From the trail only the gray rim of Black Hermit Caldron can be spotted. It is an often strongly boiling muddy hot spring.
Black Hermit Caldron:
Black Hermit Caldron
An unique feature and one of the highlights of Back Basin is Green Dragon Spring. Even if not explicitly listed as a geyser in T. Scott Bryans book, Green Dragon Spring shows at two different spots eruptions of up to three feet height (maybe more), caused by superheated boiling. Precipitated sulfur makes the walls inside the cave very colorful.
Green Dragon Spring:
Green Dragon Spring
The runoff from Green Dragon Spring flows into the Gray Lakes, encompassing many submerged hot spings of their own, and thus most of the time clouded by dense steam. Every now and then spouting activity can be observed here.
The Gray Lakes:
The Gray Lakes Yellowstone
South of the Gray Lakes three further geysers, Medusa Spring, Big Alcove Spring, and Little Alcove Spring, are located. None of them is visible from the trail. Medusa Spring is still the only one you may spot from the highway through a clearance caused by the 1988 fires. Up until the early 2000s also the Alcove Springs could be seen from there, but young trees have closed the view line.
Medusa Spring, seen from the highway:
Medusa Spring Yellowstone
The circular, dry well north of Green Dragon Spring and in front left on the next photo is all what is left from Phillips Cauldron. Named in honor of park ranger Charles Phillips, who died in 1927 at the Old Faithful ranger station from poisoning after mistakenly eating roots of water hemlock, Phillips Cauldron used to be a large, boiling mud pot. It ran dry around 2007.
Phillips Cauldron:
Blue Mud Spring Yellowstone
If you proceed from Phillips Cauldron, another "Mud Spring", in this case Blue Mud Spring, appears directly west near the boardwalk. Most of the time it is more a bubbling mud pot than a spring.
Blue Mud Spring:
Blue Mud Spring Yellowstone
Beyond Blue Mud Spring the Muddy Sneaker Complex comprises several depressions, some of them filled with muddy water, others dried out. These are the remains of springs and geysers, which developed during the early 1970s. Activity declined thereafter, so currently there is not much to see.
Muddy Sneaker Complex:
Muddy Sneaker Complex
Spearpoint Geyser (UNNG-NBK-4) is the only named feature within the Muddy Sneaker Complex, even if the name is unofficial. It stands out because of its distinct geyserite rim, shaped like an ancient arrowhead.
Spearpoint Geyser:
Spearpoint Geyser
Even behind the Muddy Sneaker Complex an elongated blue hot spring can be spotted. This is part of the Hydrophane Springs, which are encompassing also small geysers and mud pots. However, activities within the complex are hard to observe due to the large distance from the trail.
Hydrophane Springs: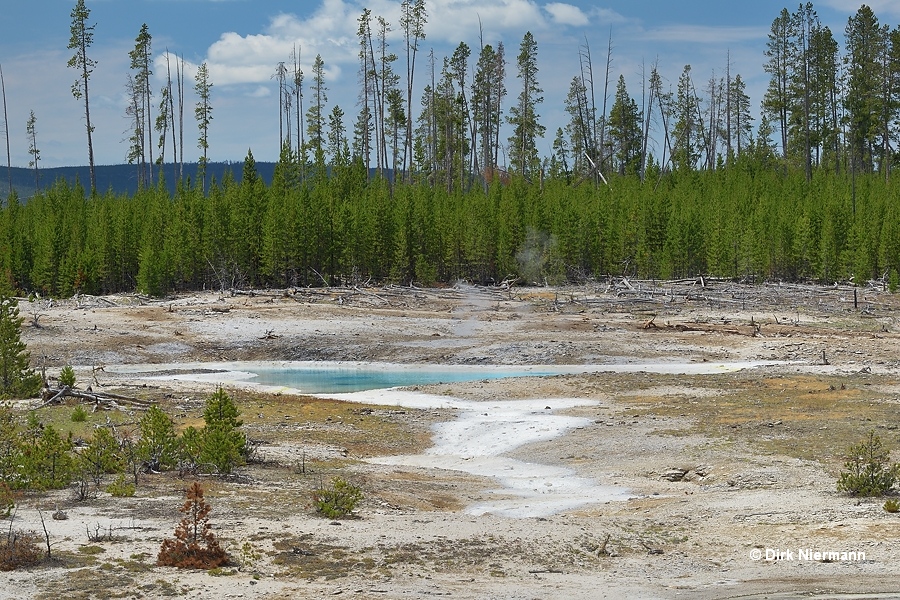 Hydrophane Springs
Almost all what has been said for Muddy Sneaker Complex applies also to Tangled Root Complex a few feet to the north. It has the same history and nearly the same appearance.
Tangled Root Complex:
Tangled Root Complex
Across the boardwalk from Tangled Root Complex the permanently spouting crater of Yellow Funnel Spring attracts attention. Hard to believe, but Yellow Funnel once was a symmetrically oval, stunning blue green pool with a broad and shallow rim, brightly yellow tinted by elemental sulfur. In the second half of the 1980s the spring largely drained and turned into a muddy spouter.
Yellow Funnel Spring:
Yellow Funnel Spring
Content and photos on this homepage are protected by law. You may save photos on your Computer, but it is not allowed to use them in any other case without permission of the author. If you want to use photos originated by the author, please ask. Please respect licence conditions of photos of third parties on this homepage.