Norris Back Basin
The Norris Back Basin loop trail starts at Emerald Spring. This exceptionally beautiful pool acts as a geyser only on rare occasions.
Emerald Spring:
Emerald Spring Yellowstone
On its way to Steamboat Geyser the boardwalk traverses a bare slope, where on the left side some small, steaming depressions become visible. The collection of small springs and steam vents is called Dr. Allen's Paint Pots.
Dr. Allen's Paint Pots (steam plume of Steamboat Geyser in background):
Dr. Allen's Paint Pots Yellowstone
Spouter within Dr. Allen's Paint Pots:
Dr. Allen's Paint Pots Yellowstone
Steamboat Geyser, more than 200 m (250 yards) south of Emerald Spring, is famous for beeing the world's largest active geyser. Major eruptions may reach up to 115 m (380 feet), but do occur only once or twice a year, with breaks spanning many years. In contrast, minor eruptions are frequent, reaching 25 m (75 feet) or more.
Steamboat Geyser, minor eruption (roll mouse over picture):
Steamboat Geyser
Deep drains of nearby Cistern Spring after major eruptions of Steamboat indicate a subterranean connection between both features, even if the distance is approximately 100 m (330 feet).
Cistern Spring: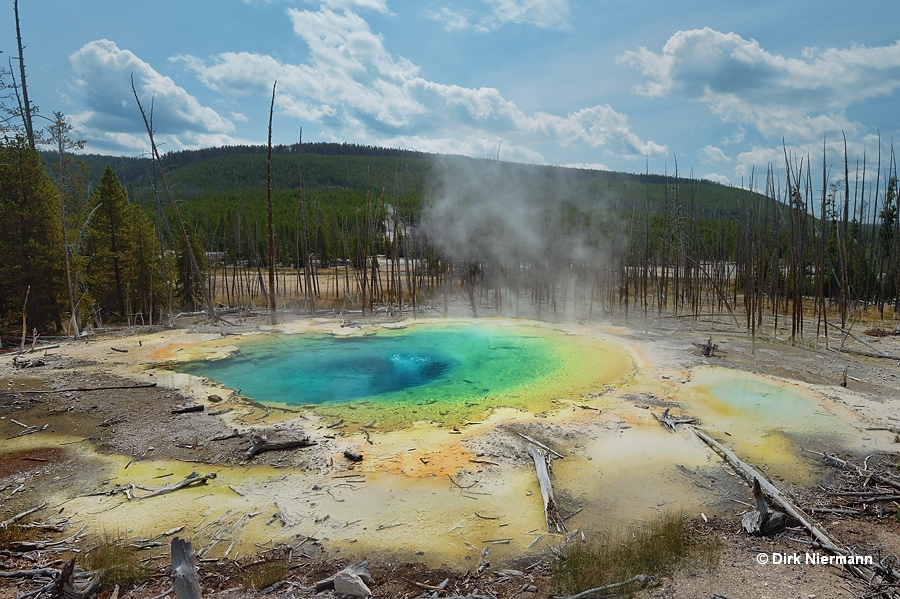 Cistern Spring Yellowstone
Next stop is Echinus Geyser. Just before reaching Echinus, two small features, Black Pit and Sulphur Pot, flank the boardwalk on opposite sides.
Black Pit:
Black Pit Yellowstone
Sulphur Pot:
Sulphur Pot Yellowstone
Between the 1970s and the 2000s Echinus Geyser used to be a frequent performer, although not always showing regular intervals. Its eruptions reached up to 25 m (75 feet). Unfortunately Echinus has fallen dormant in 2005.
Echinus Geyser:
Echinus Geyser
After Echinus Geyser the boardwalk curves west to Crater Spring. Different modes of activity are known from this spring, from geyser eruptions to perpetual spouting to quiet overflowing. However, intermittent eruptions seem to be the great exception.
Crater Spring:
Crater Spring Yellowstone
West of Crater Spring along the the edge of the wood, the quiet hot springs Root Pool, NBBNN025 and Dishwater Spring are lined up.
Root Pool:
Root Pool Yellowstone
NBBNN025:
Dishwater Spring, located in right background on top of the geyserite mound: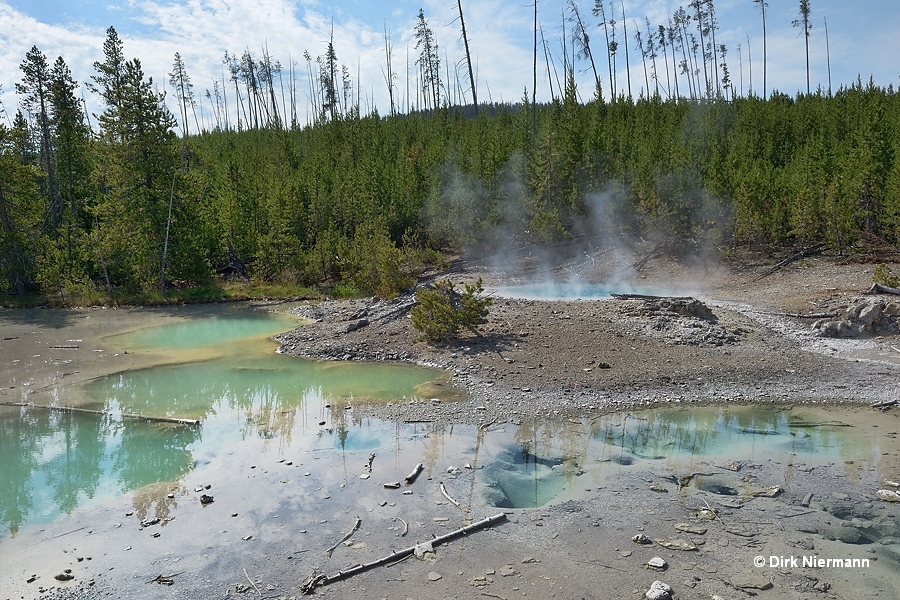 Dishwater Spring Yellowstone
Sitting on a slope between Root Pool and NBBNN025, Arch Steam Vent used to be an exceptional feature. The fumarole was bridged by a geyserite arch, which collapsed in 1968.
Arch Steam Vent: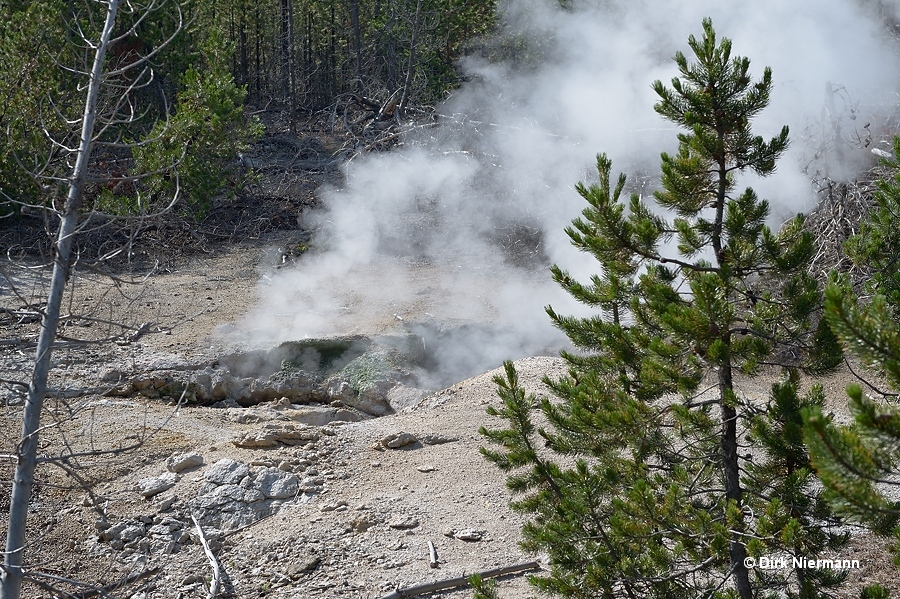 Arch Steam Vent
Tantalus Geyser is located across the boardwalk from NBBNN025 in Tantalus Creek, traversed by the merged runoff channels of Echinus and Steamboat geysers. Eruptions of size were seen in 1969, from then on only weak splashing, if at all.
Tantalus Geyser:
Tantalus Geyser
Content and photos on this homepage are protected by law. You may save photos on your Computer, but it is not allowed to use them in any other case without permission of the author. If you want to use photos originated by the author, please ask. Please respect licence conditions of photos of third parties on this homepage.