Midway Geyser Basin, Rabbit Highland Hot Springs
The name "Rabbit Highland Hot Springs" is used by T. Scott Bryan for a group of springs located on hilltops approximately 400 m southeast of the Rabbit Creek source area. In contrast, the RCN database files all springs in the area as "Rabbit Creek Hot Springs". I prefer the first version because it leads to a more transparent structure here. The Rabbit Highland Hot Springs are different from all other thermal areas in Yellowstone. Neither geysers nor superheated blue pools are to be found here. Instead, it comes with a series of vividly colored, moderately tempered springs of a quite unique appearance. Unquestioned stars of the Rabbit Highland Group are the so-called "Tomato Soup Pools".
If you hike to the Rabbit Highland Springs, you should already exactly know where to find the pools you are looking for. All features are hidden in dense forest and impossible to spot from a distance, even from a shorter distance.

The southernmost spring of the Rabbit Highland Hot Springs is designated as MNN034. It is a very typical, bluish clouded pool of moderate temperature around 75 °C (167 °F).
MNN034:
Rabbit Highland hot spring Yellowstone
10 m west of it the slightly boiling mud pot MNN023 appears. Traces of pinkish mud in the surroundings as well as in the trees indicate that its activity is not always that sluggish.
Mud pot MNN023: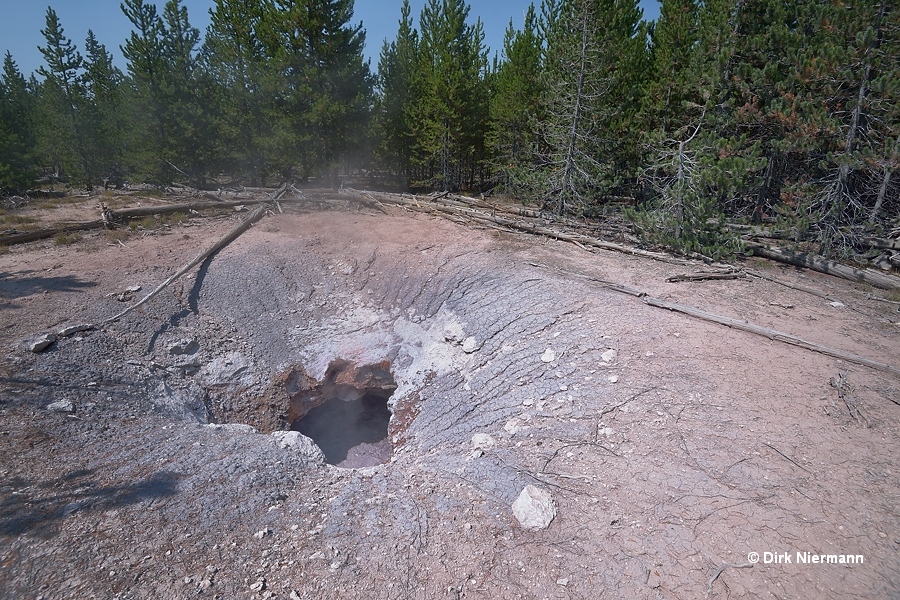 Rabbit Highland mud pot Yellowstone
Proceeding 50 m north, you come across a spring, which is not listed in the RCN database, but otherwise very similar to MNN034.
Unnamed Spring:
Rabbit Highland mud pot Yellowstone
10 m west of the greenish spring the southernmost "Tomato Soup Pool" shows up. As often in Yellowstone, it is very surprising that two springs in direct vicinity can be so different. This one is also the smallest of the four Tomato Soup Pools. Especially when sunlight hits the surface, the brick red color starts to shine in a nearly unbelievable intensity. Even the reflections on the overhanging rim are amazing.
Tomato Soup Pool MNN022:
Rabbit Highland Tomato Soup Pool Yellowstone
To be continued...

Content and photos on this homepage are protected by law. You may save photos on your Computer, but it is not allowed to use them in any other case without permission of the author. If you want to use photos originated by the author, please ask. Please respect licence conditions of photos of third parties on this homepage.