Midway Geyser Basin, Flood Group
Flood Group adjoins Excelsior Group to the southwest. It can be observed from highway turnouts and from the Fairy Falls trail, but there are no trails leading into the group. Another excellent viewpoint was the top of Midway Bluff, wherefrom some of the following pictures were made, but it has been closed to access since 2016.

The eastern part of Flood Group, located on the east bank of Firehole River, is visually dominated by Circle Pool. On the slope directly above Circle Pool there is a large roadway turnout, the best position to observe features and activities within the group.
Eastern part of Flood Group:
Flood Group Yellowstone
Circle Pool itself is a quiet hot spring, but close to its southwest rim Tangent Geyser is embedded in a fracture. Tangent Geyser is a very rare performer. In the RCN database it is listed as "Tangine Geyser".
Circle Pool and Tangent Geyser (on the rear left edge of the pool, just beyond the deep, submerged hole):
Circle Pool Yellowstone
South of Circle Pool lies the main geyser of Flood Group, Flood Geyser. It is a very frequent performer and plays up to 7 m (25 feet) out of a deep pool, lined with beautiful geyserite bulbs.
Flood Geyser erupting:
Flood Geyser Yellowstone
Flood Geyser quiet:
Also on the east bank of Firehole River, but farther to the south beyond a river bend, Catfish Geyser is located. Approximately every 15 minutes the boiling water domes up a few feet.
Catfish Geyser: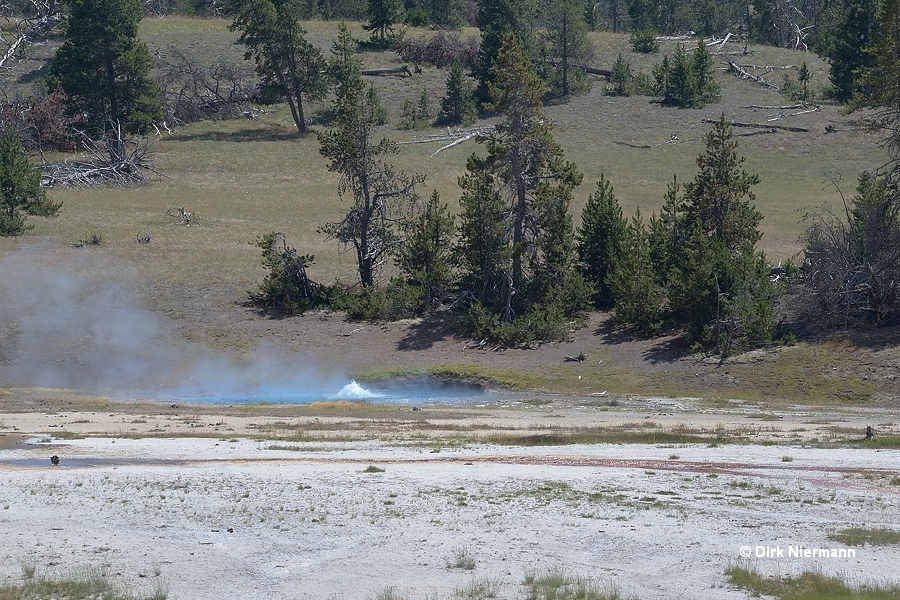 Catfish Geyser Yellowstone
Across Firehole River from Circle Pool another large, steaming pool catches the eye. This is West Flood Geyser, but unlike Flood Geyser it erupts only rarely and irregularly.
West Flood Geyser:
West Flood Geyser Yellowstone
The meadows beyond West Flood Geyser to the west are home of several small geysers and hot springs. They can only be observed from a distance.
Meadows west of Firehole River :
Flood Group Yellowstone
T. Scott Bryan designated an area west of Firehole River, where most of the small geysers are located, as UNNG-MGB-7. The next picture shows a section of it with a particularly high concentration of features. Among these is Tentacle Geyser, the structure looking like a stranded jellyfish in foreground left. Its rare eruptions may reach up to 3 m (10 feet) height.
UNNG-MGB-7 including Tentacle Geyser:
Tentacle Geyser Yellowstone
Iris Pool is the largest among the hot springs in the meadows.
Iris Pool in the meadows west of Firehole River: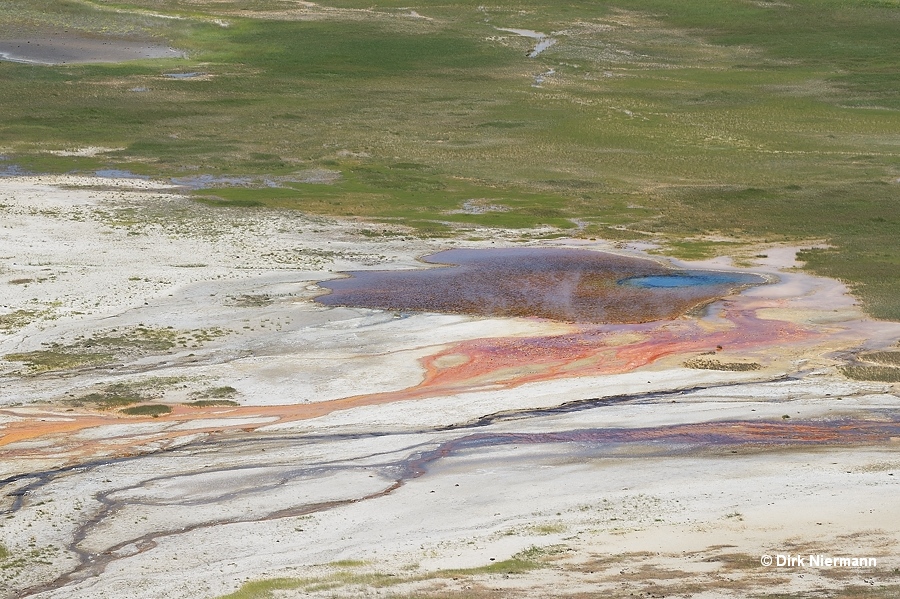 Flood Group Yellowstone
Nearly halfway between the other members of Flood Group and Excelsior Group lies the quiet Tromp Spring. In the field around Tromp Spring the traces of former roads can be recognized. At that time, its position next to the road was the main reason why Tromp Spring got attention and even a name.
Tromp Spring:
Tromp Spring Yellowstone
Tromp Spring, seen from the viewing platform south of Grand Prismatic Spring:
Tromp Spring Yellowstone

Content and photos on this homepage are protected by law. You may save photos on your Computer, but it is not allowed to use them in any other case without permission of the author. If you want to use photos originated by the author, please ask. Please respect licence conditions of photos of third parties on this homepage.