Mammoth Hot Springs, Upper Terrace Drive
The Upper Terrace Drive at Mammoth Hot Springs gives access to travertine formations and hot springs southwest of the lower terraces. It is a one-way loop road open to cars, bicycles, and hikers. During the main season parking in front of the different features is often quite tricky because space is limited. Therefore, it is always a good idea to hike the 1.5 mile loop.

In July 2015 the National Park Service temporarily closed Upper Terrace Drive to vehicles due to a new hot spring that had emerged in April 2015 from a fissure next to the parking lot just across the road west of Cupid Spring. A look into the history of Mammoth Hot Springs reveals that this is a reincarnation of nearby Baby Spring, which was intermittently active during the years 1932-65. It is also the namesake of Baby Terrace, a sub-terrace of Prospect Terrace and the support structure of the current parking lot.
"New Baby Spring" in August 2015: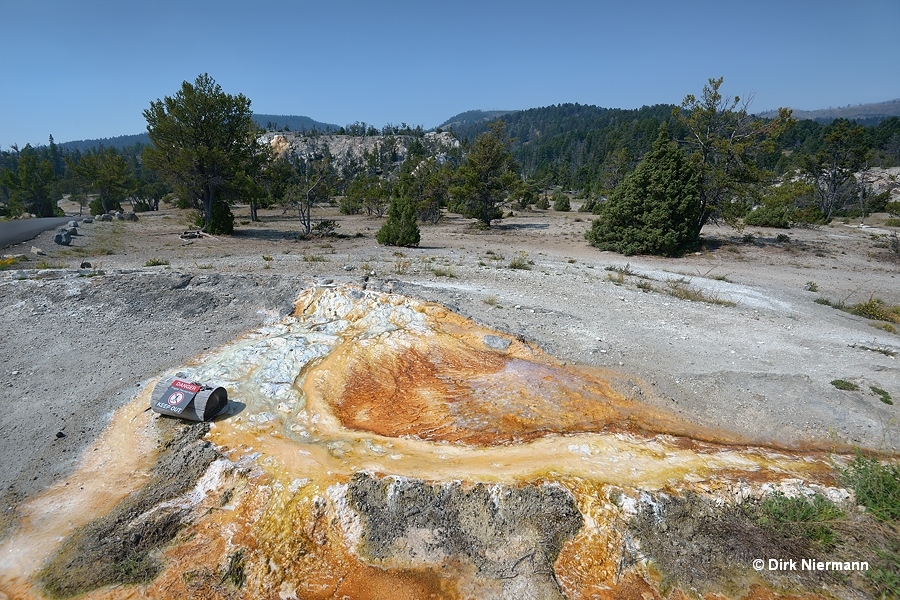 "New Baby Spring", Mammoth Hot Springs
Investigations with the help of drillholes and thermal imaging infrared cameras showed that the feature's hot water conducting veins are continuing underneath the pavement of the parking lot. This may necessitate closures or reconstruction work in the area also in future.
Drill hole in 2015 (lower left corner, hard to capture behind the retaining wall) at "New Baby Spring" next to parking lot: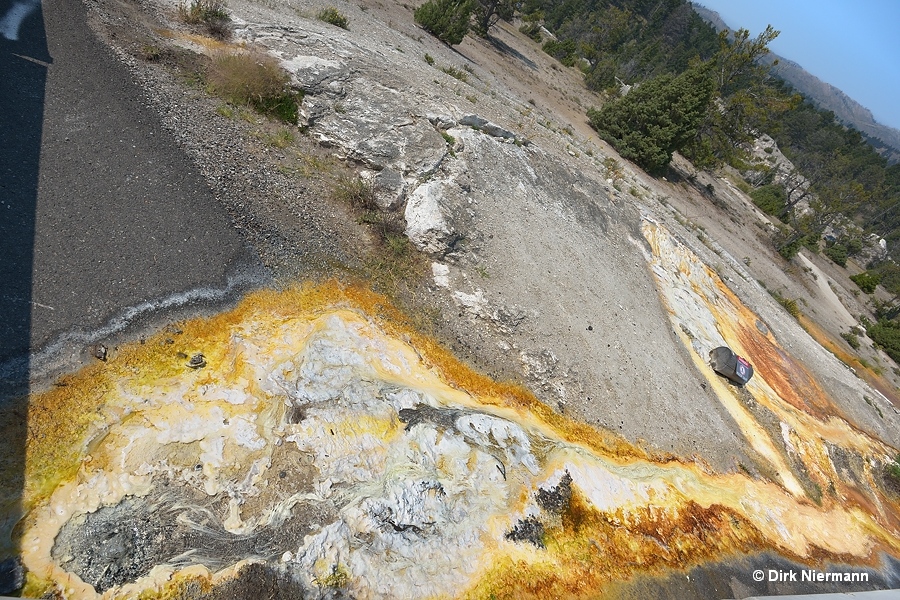 Drill hole at "New Baby Spring", Mammoth Hot Springs
West of Baby Terrace the Loop Road passes Narrow Gauge Terrace. There is a sign with its name close to the road, but apart from this it is not much to see. Although the namegiving fissure ridge extends from here in northwestern direction, it is obscured by travertine formations and so quite hard to overlook. Definitely the best viewpoint is provided by the Howard Eaton Trail. Narrow Gauge Terrace got its name because the elongated shape of the main fissure ridge resembles an old-time narrow-gauge railroad track bed. As with most fissure ridges it is characterized by a fissure that extends along the top of the ridge for nearly its entire length. The Narrow Gauge Springs are well know by microbiologists for hosting white, filamentous communities of Sulfurihydrogenibium, hyperthermophilic bacteria of the Aquificales group. It is likely that the white streamers, which are recognizable on the image of the drillhole near New Baby Spring shown above are formed of Sulfurihydrogenibium bacteria, too.
Fissure ridge on Narrow Gauge Terrace, seen from the Howard Eaton Trail in August 2017:
Narrow Gauge Terrace, Mammoth Hot Springs
The vaguely pyramidal shaped terracette assembly of Cheops Mound shows up not far south of the Narrow Gauge Fissure Ridge. For the early history of Yellowstone only one recorded activity around 1904 is known from the Cheops Mound Fissure Ridge. The more surprising was its reactivation in the early 2000's, when additional springs came to life in a forested area. Since then many trees died and an impressive new mound has grown up. In 2017 hot spring activity at Cheops Mound suffered an almost complete standstill and shifted towards the near Narrow Gauge Fissure Ridge, where many active springs appeared during that year.
Cheops Mound on Narrow Gauge Terrace, seen from the Howard Eaton Trail in August 2017:
Cheops Mound, Mammoth Hot Springs
At the next stop along Upper Terrace Drive a sign shows the name Prospect Terrace. This may be a little bit confusing because Prospect Terrace is an expanded area and comprises Cupid Spring, Baby Spring, and the Prospect Springs. Cupid Spring can be seen from the Main Terrace boardwalk and New Baby Spring near the parking lot. The weathered sinter cone next to the loop road is the remains of Prospect Spring.
Prospect Terrace and sinter cone of Prospect Spring in 2013:
Prospect Terrace, Mammoth Hot Springs
New Highland Terrace was formed by different springs from 1928 through to the 1980s in a forested area. Some of the embedded trees can still be seen today. New Highland Terrace is a part of the large Highland Terrace proper, where some prominent springs were located such as Highland Spring, which was intermittently active from 1871 until 1970, and Cedar Tree Spring, which showed discharge from 1961 to the early 1970s. Probably around 2011 new and by now unnamed springs developed just in the middle of the northern edge of New Highland Terrace, whose runoffs are visible from the road. The strongest one is shown on the next picture. If you look very closely, you may spot a little artesian water fountain on top of the spring.
New Highland Spring in August 2017: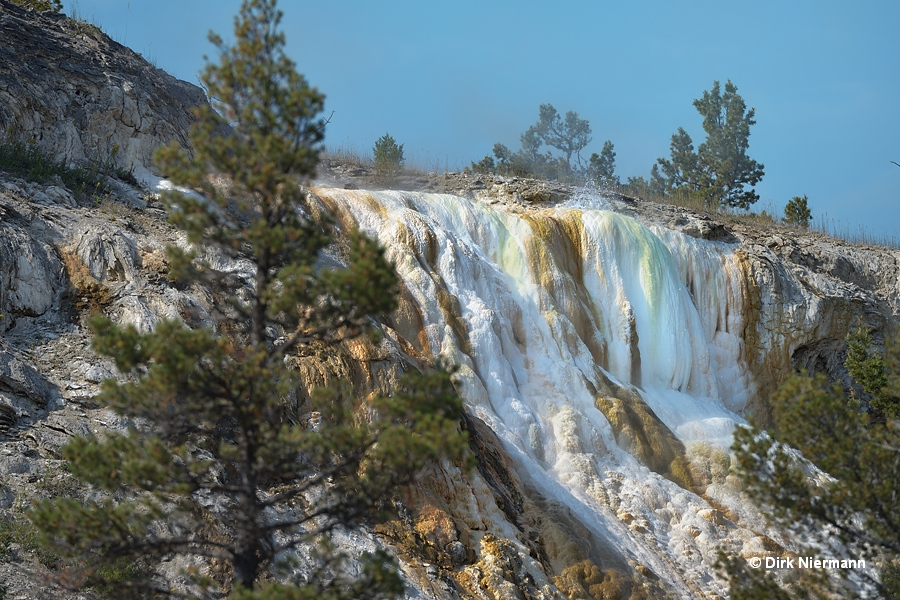 New Highland Terrace, Mammoth Hot Springs
West of the active springs some old, partially broken terracette deposits of former springs line the edge of the terrace.
New Highland Terrace, old terracette deposits in 2013:
New Highland Terrace, Mammoth Hot Springs
In the south of New Highland Terrace Orange Spring Mound appears. It is an intermittently active hot spring supported by a fissure ridge. Due to the low water discharge it is growing quite slowly and has built up the characteristic cone shape over a long period of time.
Orange Spring Mound in 2013:
Orange Spring Mound, Mammoth Hot Springs
Tangerine Spring is one of the cones of Orange Spring Mound, but has gotten an own name.
Tangerine Spring in 2013:
Tangerine Spring, Mammoth Hot Springs
Two curves past Orange Spring Mound you can spot Aphrodite Terrace at some distance on the left hand side (east) of the road. At this location flowing water was observed for the very first time in 1978, gradually building up terrace structures, which were named by Yellowstone's historian Lee H. Whittlesey. After some time of dormancy the Aphrodite Springs came back into action around 2013.
Aphrodite Terrace in August 2017 (roll mouse over picture to compare with August 2015):
Aphrodite Terrace, Mammoth Hot Springs
On a closer look the Aphrodite Springs display breathtaking terracette deposits with nice colors.
Close-up of the Aphrodite Springs (August 2017):
Aphrodite Spring, Mammoth Hot Springs
Another fissure ridge farther south is poetically called White Elephant Back Terrace. Usually the White Elephant Back Springs are far less active compared to the ones on Orange Spring Mound. So there are only minor traces of thermophilic organisms visible.
White Elephant Back Terrace and White Elephant Back Spring in July 2013: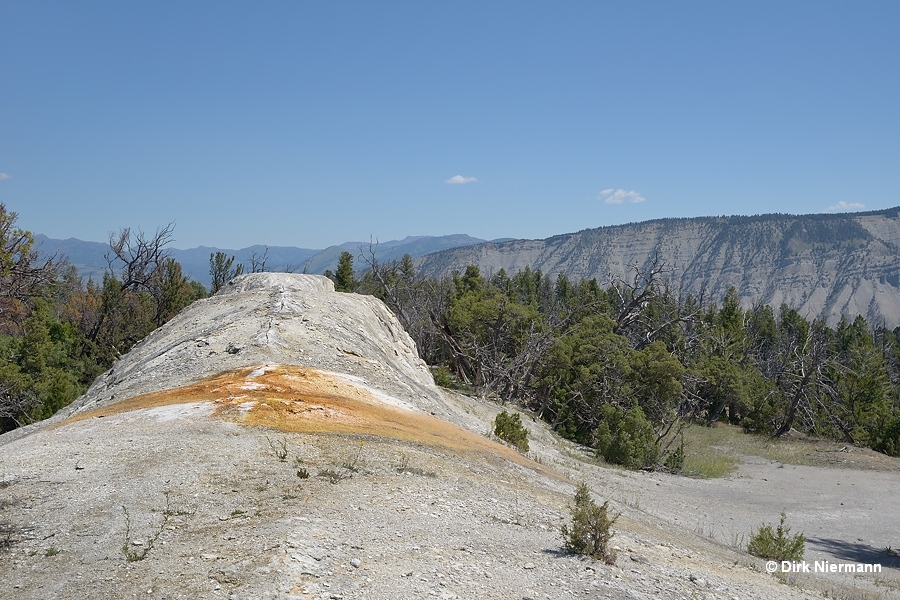 White Elephant Back Terrace, Mammoth Hot Springs
Near the end of the Upper Terrace Drive Angel Terrace comes into view. The Angel Springs are known to be intermittently active from the 1870s until 1953. Then the springs discharge declined dramatically, and the reduced activity shifted between some smaller spots.
Angel Terrace in July 2013: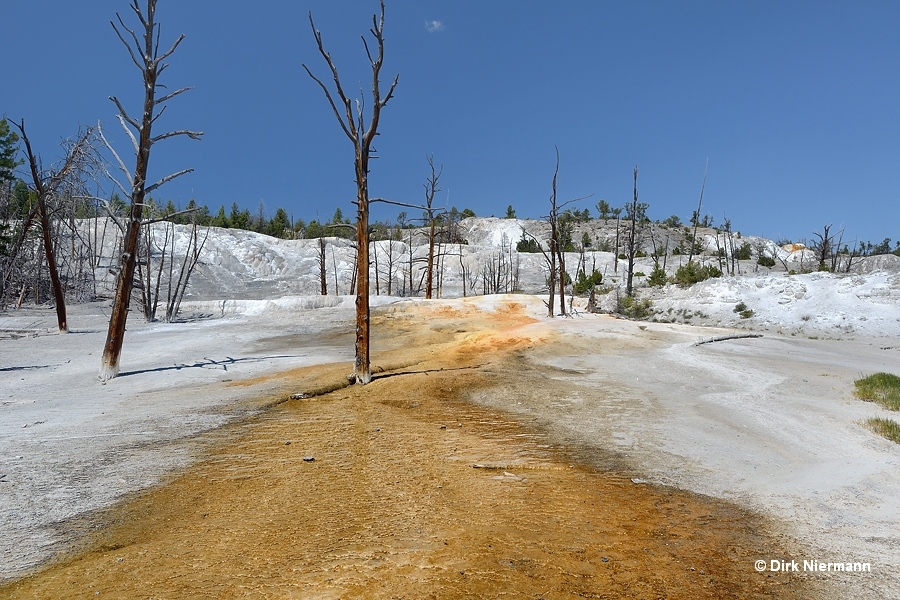 Angel Terrace, Mammoth Hot Springs
Between the north face of Angel Terrace and the south face of New Highland Terrace the Glen Springs lie on a fissure ridge. The currently most active spring in this area, which probably belongs to the Angel Terrace, can be best spotted from the parking lot at Baby Terrace (above Main Terrace).
Spring at northern corner of Angel Terrace, close to the Glen Springs (July 2013):
Spring of Angel Terrace, Mammoth Hot Springs
As in the case of the Glen Springs, Upper Terrace Drive does not permit a look at all features lying to the left and the right hand side of the road. Springs such as Painted Pool, Squirrel Springs, Poison Spring, Devil's Kitchen Springs and others remain obscured to normal visitors, and information about their current status is very hard to come by.
To the southwest Pinyon Terrace is the last hydrothermally active part of the upper terrace area, which ascends farther beyond towards the summit of Terrace Mountain.
Content and photos on this homepage are protected by law. You may save photos on your Computer, but it is not allowed to use them in any other case without permission of the author. If you want to use photos originated by the author, please ask. Please respect licence conditions of photos of third parties on this homepage.