Firehole Lake Drive, Great Fountain Group
Five eye-catching groups of hydrothermal features are lined up along Firehole Lake Drive. Since it is a one-way road, visitors inevitably first come across the Great Fountain Group on the left side of the road and the White Creek Group on the right side.

First feature to the left is Lemon Spring, which is not known to be a geyser. It often exhibits a yellow rim of thermophiles around its blue-green bowl, hence the name.
Lemon Spring:
Lemon Spring Yellowstone
When you proceed east to the subsequent roadway turnout, Broken Egg Spring at its very beginning is easy to miss because Firehole Spring draws all attention to itself. Just like Lemon Spring, Broken Egg Spring is no geyser.
Broken Egg Spring: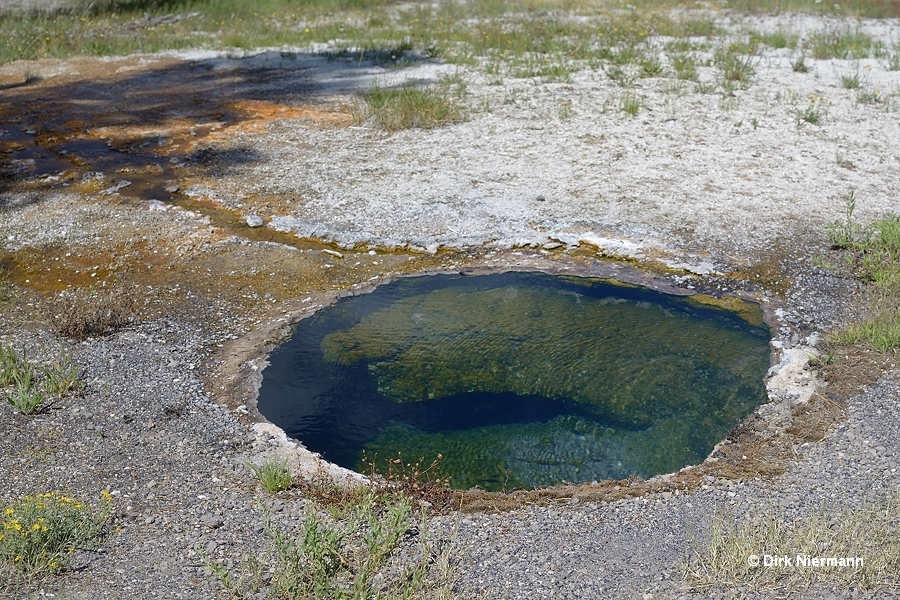 Broken Egg Spring
Firehole Spring, one of the most colorful pools of Yellowstone, shows intermittent spouting caused by steam and gas bubbles.
Firehole Spring:
Firehole Spring
In the same way Surprise Pool is served by an own turnout. It's boiling, but has never been seen erupting.
Surprise Pool: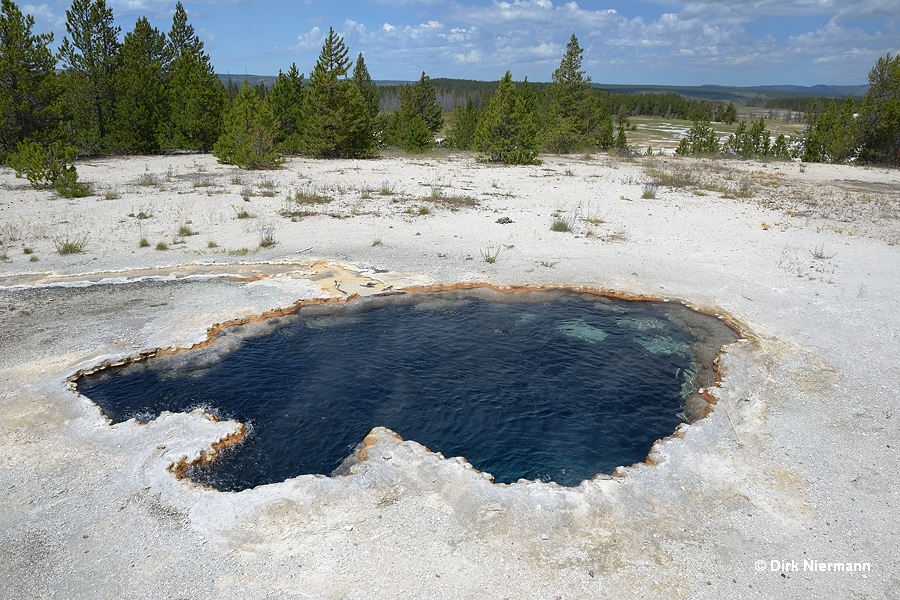 Surprise Pool Yellowstone
Great Fountain Geyser is the most popular feature at Firehole Lake Drive. It's one of the major geysers of Yellowstone, and eruption times are usually predicted by the visitor center.
Great Fountain Geyser:
Great Fountain Geyser Yellowstone
Great Fountain Geyser erupting:
Great Fountain Geyser Yellowstone

Content and photos on this homepage are protected by law. You may save photos on your Computer, but it is not allowed to use them in any other case without permission of the author. If you want to use photos originated by the author, please ask. Please respect licence conditions of photos of third parties on this homepage.