Throughout the Quaternary Period, beginning about 2,6 million years ago, Hayden Valley was flattened by volcanic lava flows and three successive waves of glaciation. The most recent glacial retreat 13,000 years ago left it as a northern arm of Yellowstone Lake, which dried up after the ice had vanished completely. Densely packed, almost water-tight glacial till then gave rise to marshy and nearly nonforested, rolling meadows along Yellowstone River.
Hayden Valley is not only famous for its great opportunities to spot bison, bears, and wolves, but it's also home of thermal areas, for example around Mud Volcano and at Crater Hills. Both are located along the Grand Loop Road between Yellowstone Lake and the Grand Canyon of the Yellowstone.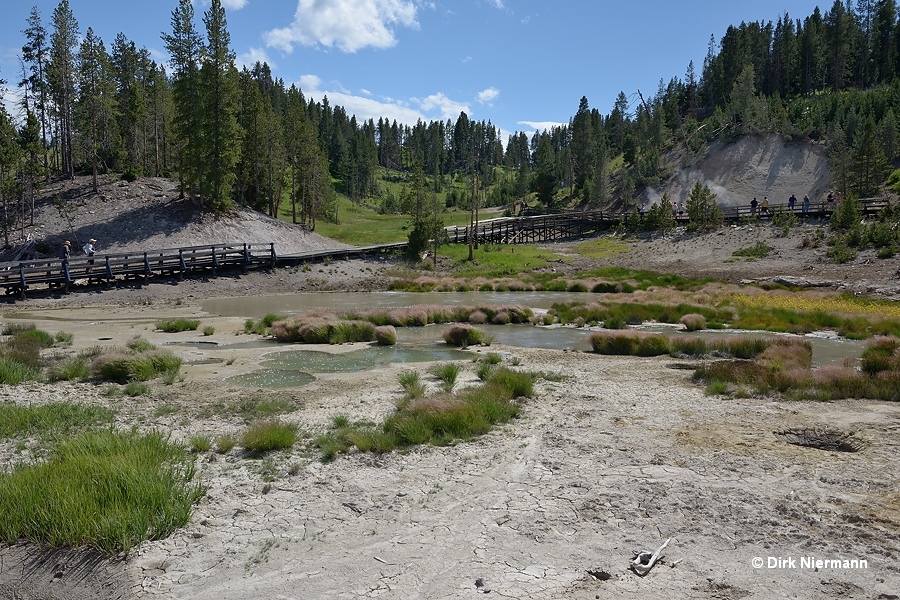 While most of the Mud Volcano Area is securely accessible via boardwalks and paved trails, Crater Hills is an undeveloped backcountry setting and only recommended to hikers with appropriate experience (Update: Like so many other backcountry thermal areas also Crater Hills has been closed to the public since 2016). Southeast of the Mud Volcano Area, not far from Yellowstone River, the carbon dioxide driven Cold Water Geyser is to be found. However, the site is also closed to public entry.