Grand Canyon of the Yellowstone
The Grand Canyon of the Yelllowstone does not only impress with its length of 38 km (24 miles) and a maximum depth of 360 m (1200 feet), but even more with its amazing play of colors. The yellow colors can mostly be attributed to formation of iron oxides by hydrothermal alteration of the rhyolitic rock. Approximately 590,000 years ago these rocks were deposited as lava by the Canyon Rhyolite Flow and subsequently eroded by a combination of hot steam and gases, earthquakes, rainfall, melting water, and other natural forces. There are some locations in the canyon, where the hydrothermal influence is particularly evident. Downstream of the Lower Falls the canyon cuts through a buried primeval geyser basin at and above the level of Yellowstone River.
Lower Falls with view towards the ancient geyser basin:
Lower Falls, Grand Canyon of the Yellowstone
Even today many hot springs and also geysers line the steep river bank, and some are to be found in the river bed. Just as the depths of the canyon everywhere else, these thermal areas are closed to the public and would otherwise also be hard to reach. The best viewpoint for the Lower Falls Geyser Basin is the steep Uncle Tom's Trail at the south rim.
Hot Springs of Lower Falls Geyser Basin, seen from Uncle Tom's Trail:
Hot Springs at Lower Falls Yellowstone
Springs and geysers are easily recognized by their steam plumes or rusty orange runoffs. To the right of the section shown on the next picture sits Red Rock Geyser directly downslope of Red Rock Point. It has been observed to spout 4.5 m (15 feet) high.
Close-up of Hot Springs of Lower Falls Geyser Basin: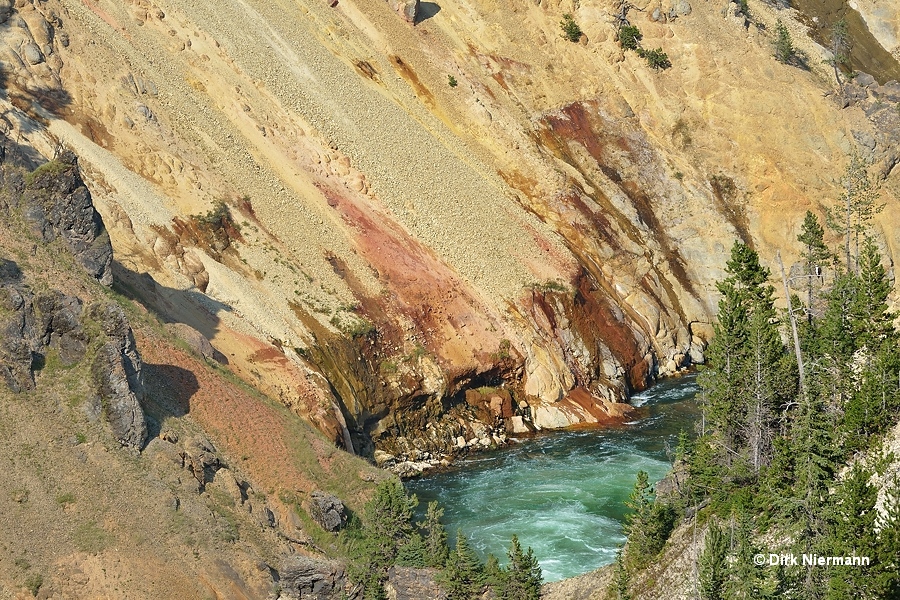 Hot Springs at Lower Falls Yellowstone
Another location to observe hot spring activity is the Calcite Springs Overlook above the lower Grand Canyon of the Yellowstone. It is only a few minutes drive from the Tower Junction. The name "Calcite Springs" can be traced to the appearance of the mineral calcite in the vicinity of the springs. Similar to Mammoth Hot Springs they deposit Travertine (limestone) instead of the commonly found siliceous sinter.
Calcite Springs: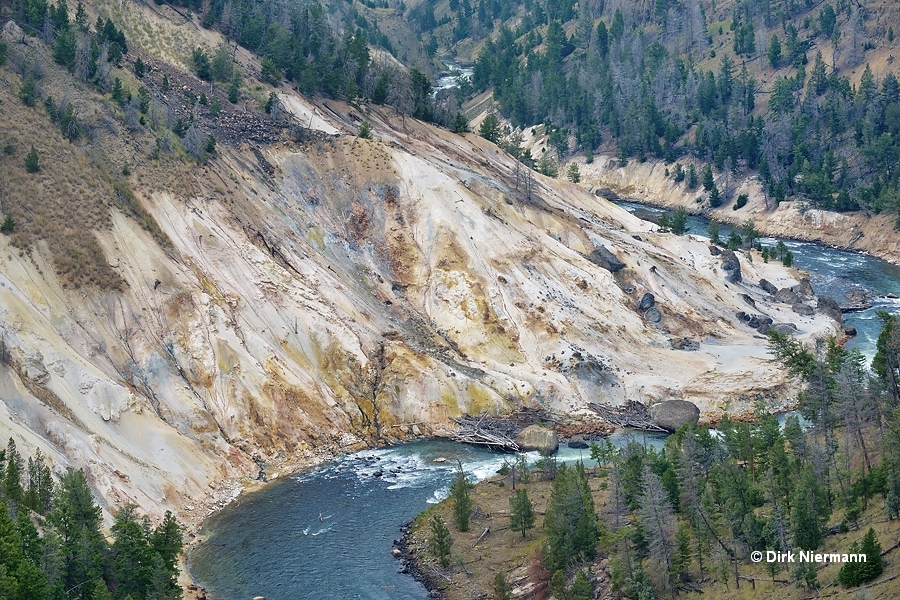 Calcite Springs Yellowstone
As with the springs of Lower Falls Geyser Basin, the close-up reveals coloration by iron oxides in different shades. A quite conspicuous feature of Calcite Springs is the discharge of a mixture of hot water, gray sulfur minerals, and black, oily organic fluids into the river.
Close-up of Calcite Springs:
Calcite Springs Yellowstone

Content and photos on this homepage are protected by law. You may save photos on your Computer, but it is not allowed to use them in any other case without permission of the author. If you want to use photos originated by the author, please ask. Please respect licence conditions of photos of third parties on this homepage.