Gibbon Geyser Basin of Yellowstone
Gibbon Geyser Basin adjoins Norris Basin to the southwest in direction of Madison Junction. The grassy, orchid filled Gibbon Meadows form the northern part of the basin, followed by the area around Gibbon Canyon in the south, both lined up along Gibbon River. Meadows, river, and canyon are named for Colonel John Gibbon, who participated in the 1872 Hayden Geological Survey of Yellowstone and firstly explored the region. He is even better known for his role in the Battle of the Little Bighorn and in the 1878 pursuit of Chief Joseph of the Nez Perce.

Geologically, the 8 km (5 miles) long Gibbon Canyon lies on the topographic margin of the Yellowstone Caldera. It marks the begin of the only major zone of hydrothermal activity that extends far from the caldera northward through Norris Geyser Basin, Roaring Mountain, Horseshoe Hill, and Mammoth Hot Springs. Gibbon Geyser Basin encompasses nine scattered groups of thermal features, but only two, Artists' Paintpots and Monument Basin, are accessible by maintained trails or boardwalks. Among the further groups are the Geyser Springs south of Artists' Paint Pots, belonging to the most dangerous thermal areas of Yellowstone. On the other hand, spots like the Chocolate Pots are located next to the road and easy to explore.
View over Gibbon Geyser Basin from Paintpot Hill: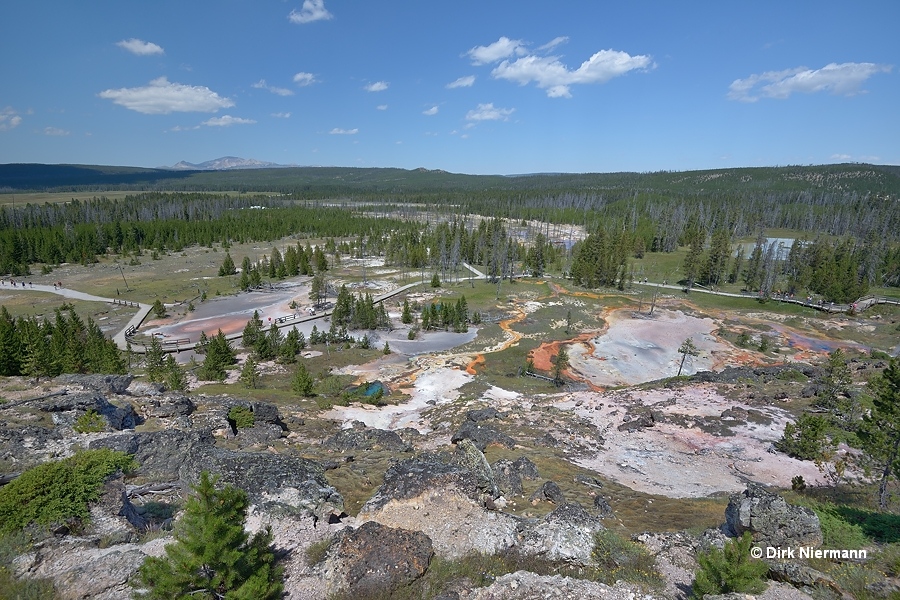 Artists' Paintpots Yellowstone
Virtual, descriptive tours through the single groups:
Content and photos on this homepage are protected by law. You may save photos on your Computer, but it is not allowed to use them in any other case without permission of the author. If you want to use photos originated by the author, please ask. Please respect licence conditions of photos of third parties on this homepage.