Waimangu - page 3
In the 1890s, Alfred Warbrick, who served after the 1886 Tarawera eruption for 45 years as explorer and visitor guide in the Waimangu geothermal area, dammed the flow of a small hot spring in Rift Valley northwest of Marble Terrace with the help of sandbags. Over the decades siliceous sinter coated the dam over and over and formed a structure known today as Warbrick Terrace with a widely expanded runoff area and colourful bacterial mats.
Warbrick Terrace:
Warbrick Terrace
On top of Warbrick Terrace the initial spring is still existent, albeit lifted by sinter layers onto a higher level. For 1993, T. Scott Bryan stated this spring as a geyser. All we could detect in 2019 was a low and pulsating upwelling.
Spring on top of Warbrick Terrace: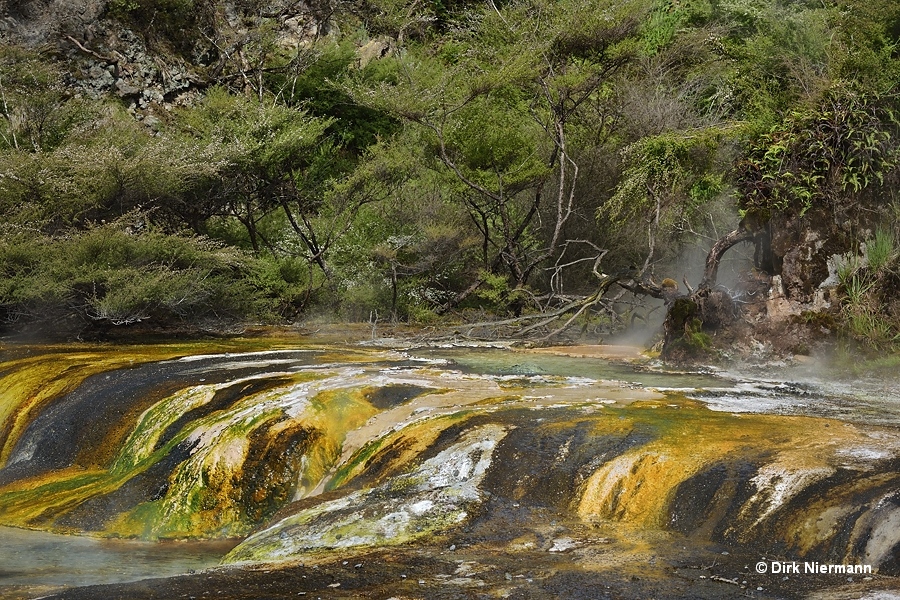 Spring on top of Warbrick Terrace
At the foot of Warbrick Terrace there once was a collection of differently-sized hot springs, also called bottom springs. One of these was described by Bryan as a small geyser, too. Still today a spouting spring is to be found in this area, but it is unlikely that it matches the spring mentioned by Bryan. The splashing is continuous and only a few centimetres / inches high, but the bowl is lined by intensely red orange coloured cyanobacteria.
Spouter at the foot of Warbrick Terrace:
Spouter at the foot of Warbrick Terrace
Warkrick Terrace is home of a further pool, which developed since the 1990s because growing sinter deposits blocked the warm water stream draining through Rift Valley crater.
View along Rift Valley crater with dammed pool in right background: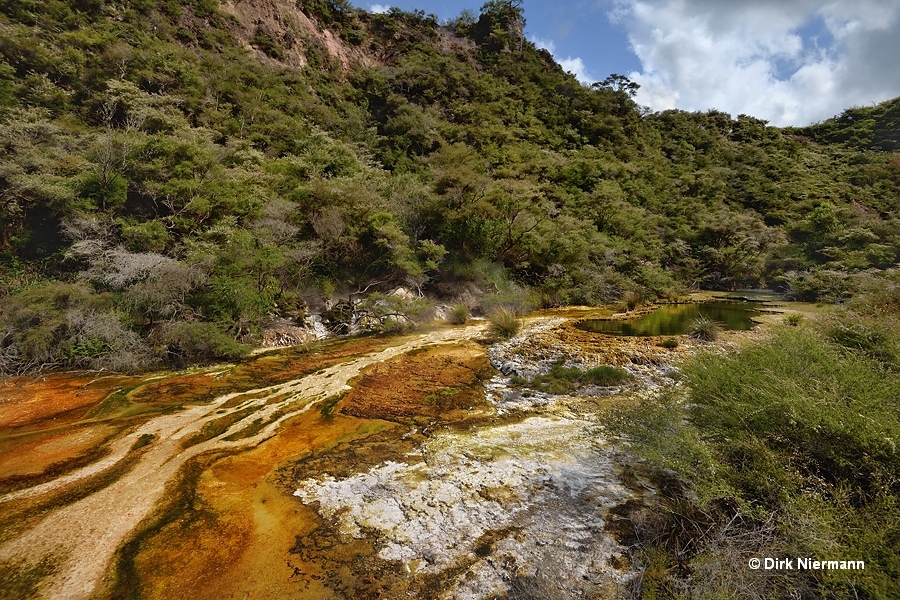 Depending on the discharge volume and water temperature, the pool sometimes contains bluish clouded water, at other times the colour switches to green or brown.
Pool on Warbrick Terrace: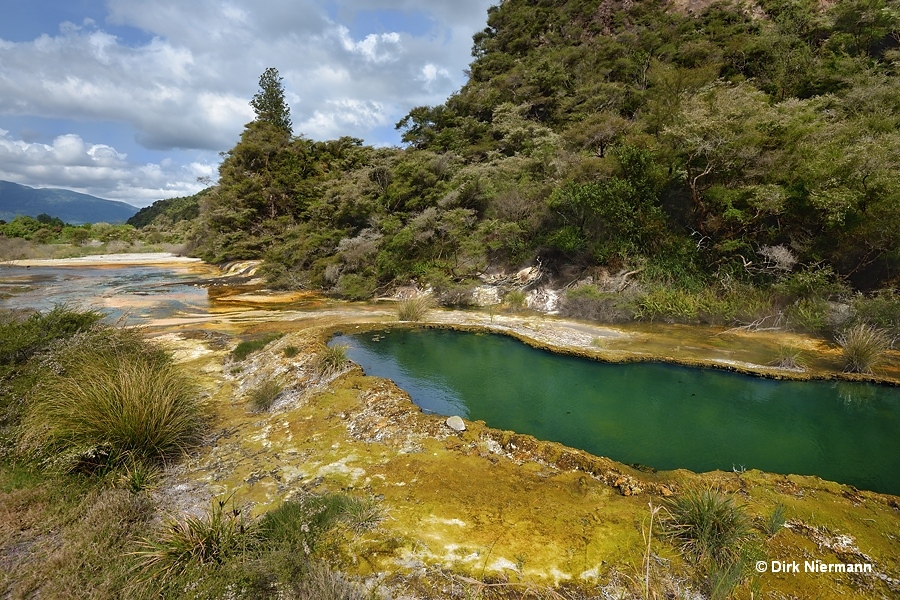 After 3.6 km (2.2 miles) the trail through Waimangu Valley ends at the shore of Lake Rotomahana. Before 1886, the area included besides a tenfold smaller Lake Rotomahana (Warm Lake) also Lake Rotomakiriri (Cold Lake). But the real sensations were the worldwide famous White, Pink and Black Terraces. White Terrace (Te Tarata = The Tattooed Rock), the largest terrace of all, occupied the northeast corner of the old Lake Rotomahana and was built up by an ascending sequence of semicircular sinter pools. A large basin of turquoise, vigorously boiling water sat on top, from where it cascaded down the ponds and formed snow white to slightly pink sinter stalactites. As the largest ever known sinter terrace it was approximately 25 m (82 feet) high at a lenght of 240 m (790 feet).
On the opposite lakeside in the southwest, Pink Terrace (Te Otukapuarangi = The Cloud in the Heavens) was located. Although somewhat smaller in total, the single sinter structures, which in contrast to White Terrace formed only a few ponds, were more delicate. They displayed a colour range from white at the bottom through pink to pale yellow on the upper level. On top of Pink Terrace a very deep and large cauldron, edged with white and pink sinter and rimmed by yellow, patchy sulfur deposits, supplied the hot, sinter depositing water. This central cauldron was surrounded on the upper terrace level by some smaller ponds of different water temperatures.
Still quite mysterious is the Black Terrace (Te Ngāwhā a Te Tuhi = The Hot Spring of Tuhi), which was located in a valley northwest of Pink Terrace at some distance to the old lake. Apart from the name and the approximate location very little is known about this terrace. A huge number of further thermal features lined the shores of the old Lake Rotomahana, including geysers such as Koingo, Ngahapu, Kakariki, Te Whatapohu and Te Takopo. Latter was stated to erupt 9-12 m (30-40 feet) high.

All these wonders of nature were destroyed or flooded by the devastating 1886 volcanic eruption, when on 10th June the three peaks of Mount Tarawera were split open right through their centres and the rift continued about 17 km (10.5 miles) up the Waimangu Valley. Approximately 120 people, nearly all Māori, lost their lives. The eruptions excavated the Lake Rotomahana and many further craters around before they covered the whole area with millions of tonnes of ash and debris. That way Lake Rotomahana with its fantastic geothermal features was reshaped into a much larger and deeper lake and merged with its neighbour, Lake Rotomakiriri. The rediscovery of the White and Pink Terraces on the bottom of Lake Rotomahana is an exciting story, but would lead too far here. In contrast, the evidence available indicates that the Black Terrace had been destroyed in 1886. One of the most comprehensive reports in this context has recently been published by Andrew M. Lorrey and John-Mark Woolley, Locating Relict Sinter Terrace Sites at Lake Rotomahana, New Zealand, with Ferdinand von Hochstetter's Legacy Cartography, Historic Maps, and LIDAR, Front. Earth Sci. 6:205., 2018.

Nowadays, visitors have the opportunity to explore the post-eruption geothermal setting by boat. The trip first leads northeastwards across the lake into Starhill Crater, where the boat reverses direction to head southwest over the submerged locations of White Terrace and, after some minutes, Pink Terrace. Since the terraces rest more than 60 m (200 feet) below the water's surface, nothing is to spot and you have to use your imagination. Immediately west of Pink Terrace the boat enters Pink Terrace Bay. A very detailed description about geysers and hot springs along the shore of the Steaming Cliffs, which include Pink Terrace Bay, Fumerole Bay and Donne Cliffs, is given by Ron F. Keam and Edward F. Lloyd in GOSA Transactions XIII, 2016. According to their report, in the north of Pink Terrace Bay once Te Waari Geyser was active, but it became flooded by the lake somewhen after 1903.
Fortunately, Pink Terrace Bay hosts a further geyser and this is an active one above the water level. Moreover, it is not only erupting very frequently, but is also the second largest geyser (above the waterline) currently to be found in the Waimangu Geothermal Area. Knowing this background I was a little bit surprised that neither the official tour pamphlet nor the article by Keam and Lloyd mention a name for this geyser, not to speak of other sources. Eventually, I found the name "Pink Terrace Bay Geyser" in Ashley D. Cody's report Geodiversity of geothermal fields in the Taupo Volcanic Zone from 2007. At passing by, the captain of the boat told us that this geyser erupts very regularly every 5 - 8 minutes up to a height of 10 metres (33 feet). And Pink Terrace Bay Geyser promptly did so, for about 2 minutes.
Pink Terrace Bay Geyser on 18th November 2019: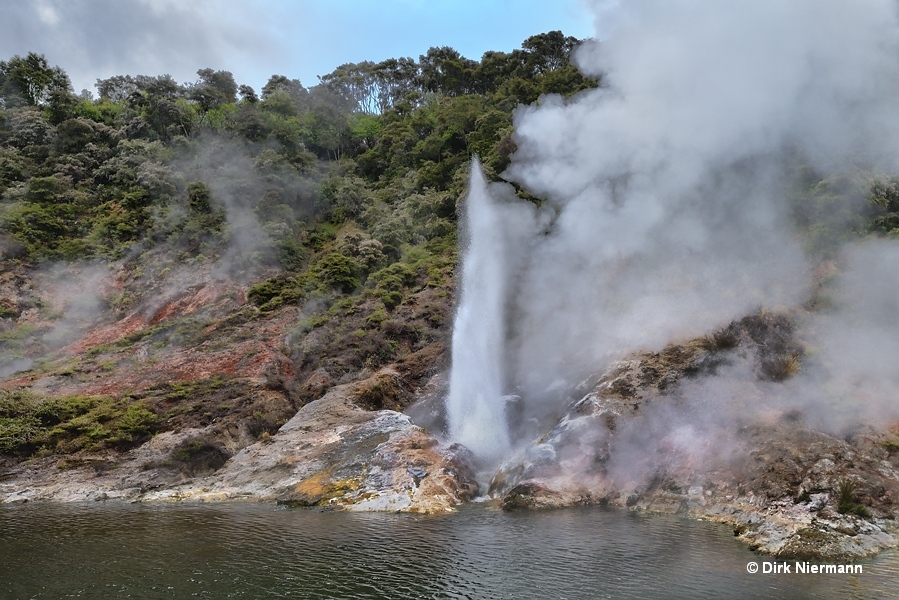 Pink Terrace Bay Geyser
No further prominent features are to be found within this bay, only a small perpetual spouter sits on the shore south of Pink Terrace Bay Geyser.
Perpetual spouter south of Pink Terrace Bay Geyser: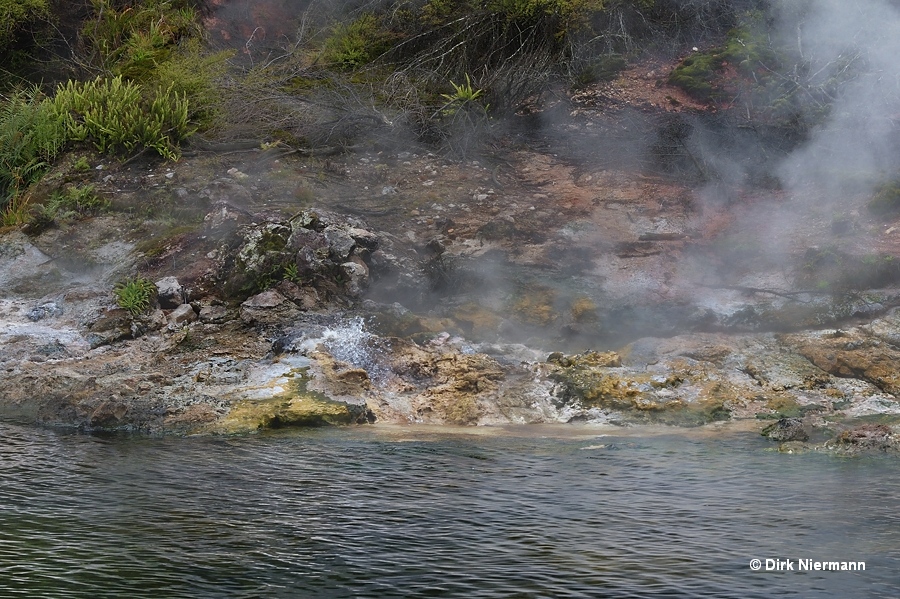 The boat trip continues southwards through Fumerole Bay, wherefrom some fumaroles and one perpetual spouter, but no geysers were recorded. Circling around the protruding Awarua Cliffs then the boat turns into Donne Bay. Its shoreline features an only 40 m (130 feet) short strip where a high number of hot springs are concentrated. In 2012 Keam and Lloyd counted at least 9 geyser vents and 7 additional springs here.
Section of the shore in Donne Bay with geysers and hot springs:
In the north, the steep Donne Cliff displays a grotto with a large, heavenward directed hole just above the waterline. Grotto and hole have been washed out by "Hole in The Wall Geyser", a descriptive name assigned by Cody in 2007. Keam and Lloyd call this feature "Upton Geyser" after Simon D. Upton, a New Zealand politician who has worked hard and successfully to preserve the Waimangu geothermal system from exploitation. For all geysers along the cliff applies that they are dependend on the water level of Lake Rotomahana, demonstrated by the fact that their intervals increase with the distance to the waterline, for example by a decreasing water level. An additional effect on Upton Geyser is that at high water levels, lake water enters its bowl and cools the feature down. The eruptions may have been much higher in the past decades as indicated by the hole in the cliff, but nowadays they reach between 1 and 2 metres (3-6.5 feet).
Upton Geyser with submerged bowl:
Upton Geyser
The next important feature following Upton Geyser to the south is hard to detect if not erupting. In centre of the next picture a prominent dark orange sinter sheet catches the eye, aptly named Angel Wings Formation. On the lefthand side of the wing a yellow perpetual spouter shows up, while at the same distance from the formation to the right a geyser is located. Its three adjoining vents appear directly below the first small plants, as seen from the direction of Angel Wings Formation. This is Angel Wings Geyser, but when it is quiet the positions of the vents are betrayed only by a little white runoff channel. Eruptions of Angel Wings Geyser are belonging to the most aesthetical ones worldwide. The left and the upper vents shoot strong but narrow jets at an angle of about 45° up to 30 m (98 feet) away to the left, the right vent acts inversely to the right. Gravity curves the tilted jets into arches and draws numerous droplets along their entire path to the ground, thus creating the impression of two feathered wings. Both The New Zealand Herald (issue from 21st September 2012) and Keam and Lloyd reported eruptions of Angel Wings Geyser for 2012. While the newspaper announced it as a new geyser, Keam and Lloyd referred to an observation already years before by Bradley J. Scott.
The three vents of Angel Wings Geyser on the righthand side, some 6 m (20 feet) away from Angel Wings Formation: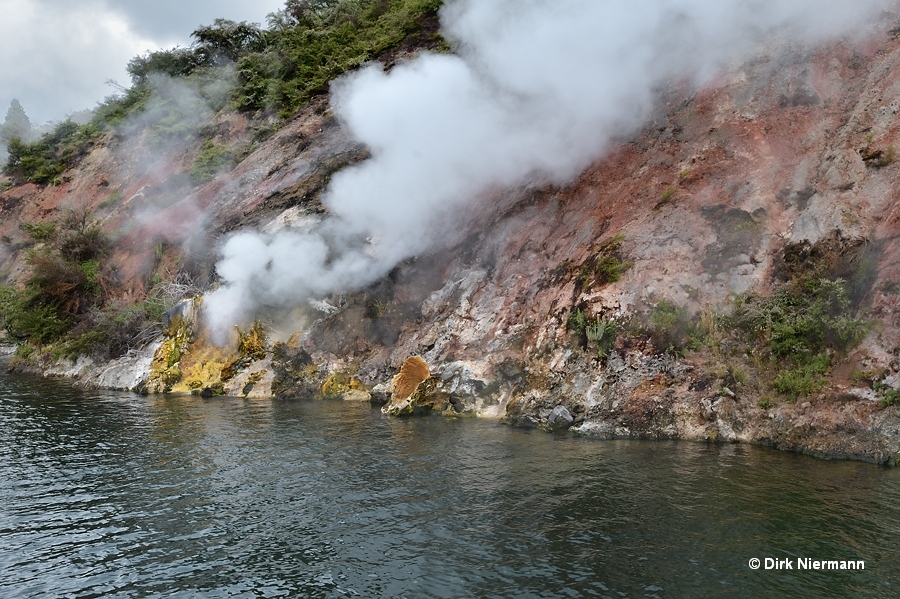 Angel Wings Geyser
Since eruptions of Angel Wings Geyser seem to be very rare events, most of the time the Angel Wings Formation is the true eyecatcher in this section.
Angel Wings Formation: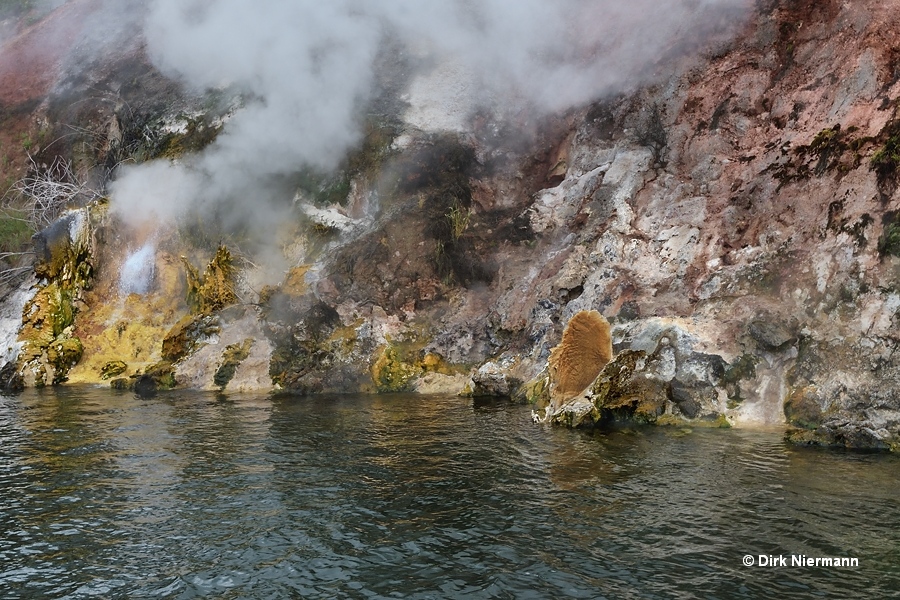 Angel Wings Formation
On a closer look not only one but two protruding, sheet-like structures become recognisable. They have been built up by two small but busy geysers, one on either side of the smaller northern wing. In other words, one geyser sits just between the wings, the other one immediately north of the formation. It is hard to believe that by pure coincidence nature created completely different features side by side, namely the arched jets of Angel Wings Geyser and the sinter sheets of Angel Wings Formation, which both qualified for the same otherwise very rarely used name.
Geyser vent inside Angel Wings Formation:
Geyser within Angel Wings Formation
The sequence of geysers and springs along the shoreline of Donne Bay ends with a vigorous but unnamed perpetual spouter south of Angel Wings Formation.
Perpetual Spouter south of Angel Wings Formation: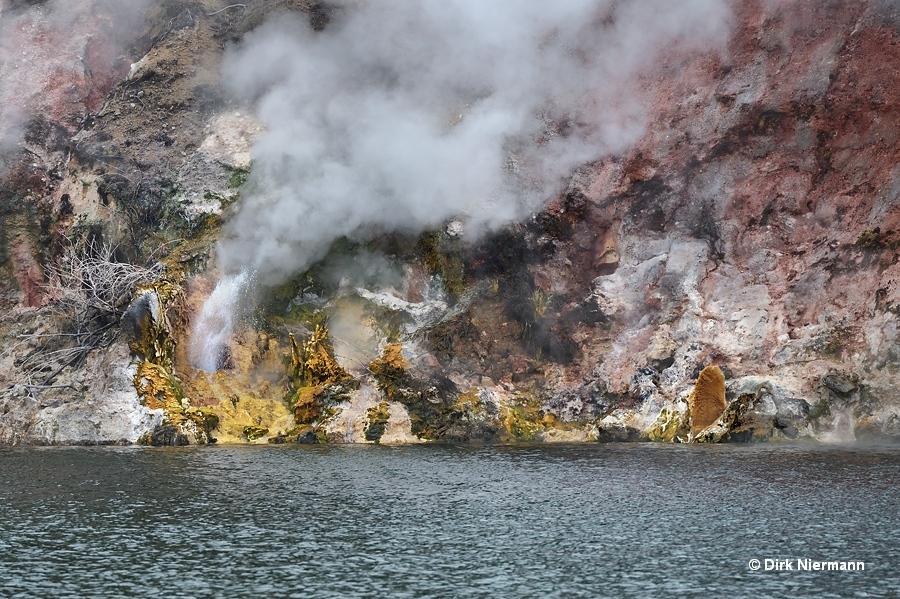 Content and photos on this homepage are protected by law. You may save photos on your Computer, but it is not allowed to use them in any other case without permission of the author. If you want to use photos originated by the author, please ask. Please respect licence conditions of photos of third parties on this homepage.