Te Kopia
Te Kopia (The Ravine) is one of the lesser known geothermal areas of the Taupo Volcanic Zone, though it is not a small one. Some may have heard about Te Kopia Mud Geyser, one of only six documented features of this type in New Zealand. Besides the mud geyser the Te Kopia Scenic Reserve, located about 39 km (24 mi) south of Rotorua along Paeroa Range and Te Kopia Road, comprises a good number of scattered mud pools and small to medium sized hot springs. But only a fraction of them is accessible to tourists via the Te Kopia Walk, a short boardwalk into the area installed as recently as 2014.
Te Kopia Scenic Reserve, information board next to the eastern shoulder of Te Kopia Road:
After only about one hundred metres (330 feet) the trail opens up a look at the northern mud pool, one of four larger features on location. Just as the others it is a cluster of muddy hot springs with changing activity.
Northern mud pool:
During our visit on 19th November 2019 a few springs of the cluster showed increased activity, two of them were perpetually spouting up to one metre (three feet) high mud fountains.
Mud fountain of northern mud pool:
On the second picture some upwelling springs near the mud spouter can easily be recognised.
Second mud fountain and upwelling springs of northern mud pool: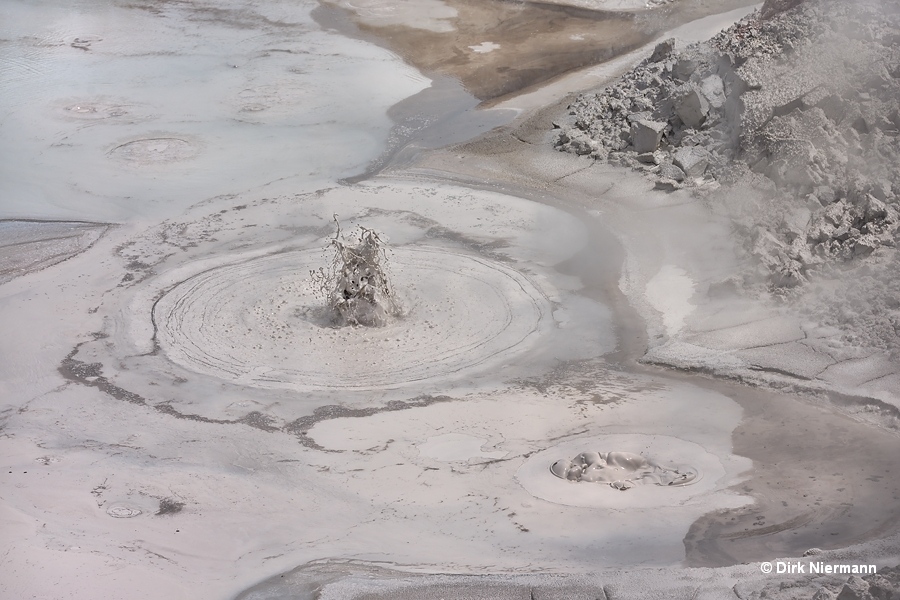 From the northern mud pool the trail climbs an elevated vantage point which provides a good view at the somewhat larger western mud pool. Embedded in the western rim on the far side of the pool, Te Kopia Mud Geyser can be spotted at the foot a huge mound of ejected mud. It is reported to erupt a column of grey muddy water 5 to 10 m high every 10 to 30 minutes, whereby each burst is accompanied by a loud thud. We did not have the luck to see Te Kopia Mud Geyser playing, and the last recorded activity I could find so far was in 2009 (B.Y. Lynne; Monitoring of Geothermal Features, Environment Waikato Technical Report 2009/25).
Te Kopia Mud Geyser: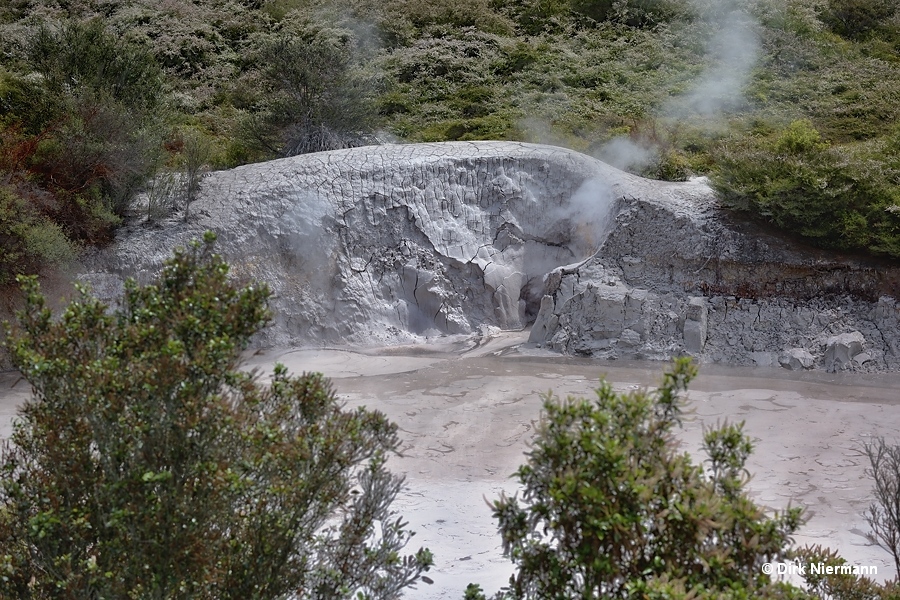 20 m (65 feet) farther southeast the boardwalk already comes to an end at a viewing platform. East of the platform the third large cluster of hot springs sits in front of the ascending slope of the Paeroa Range.
Eastern mud pool: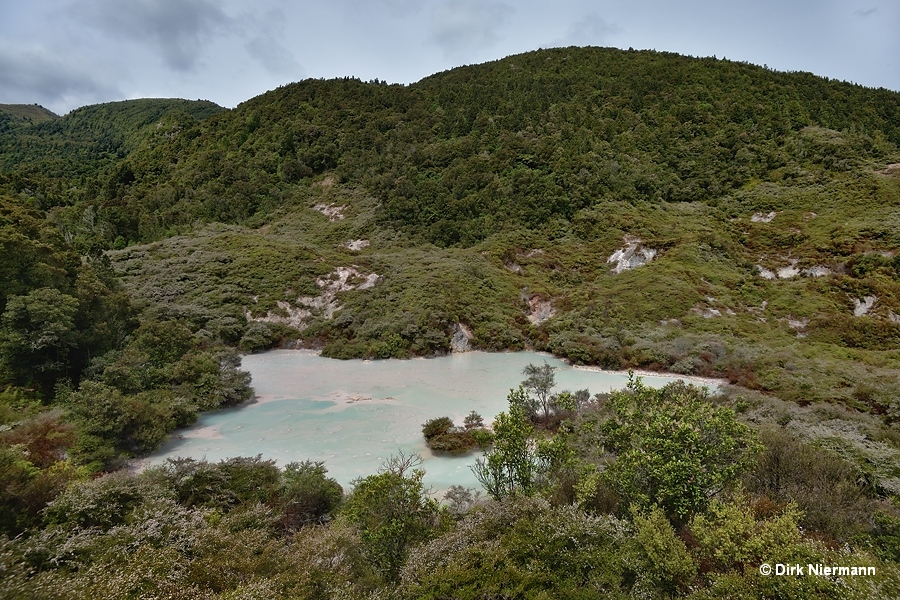 The light grey mud of this pool is covered by a thin layer of clear blue water, indicating that for a while no turbulences have occurred.
Close-up of eastern mud pool:
In the Environment Waikato Technical Reports a mud volcano is described, which was quite active within the eastern mud pool from 2009 to 2013. However, we were not able to detect the feature in 2019.
Section of the rim of eastern mud pool: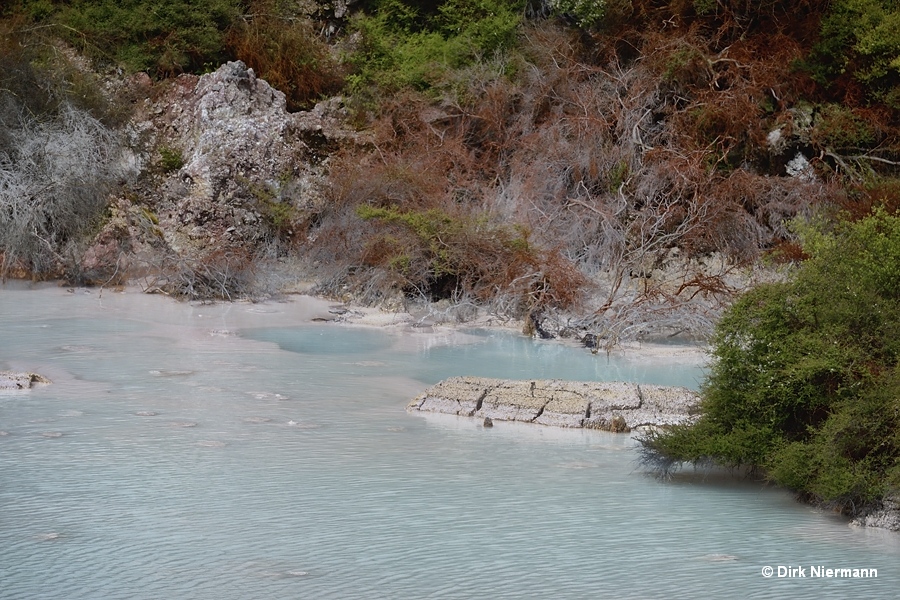 South of the viewing platform the last mud pool shows up, albeit somewhat higher, more distant, and smaller than the other three. Several mud cones suggest that there is some minor but constant spouting activity within this feature.
Southern mud pool: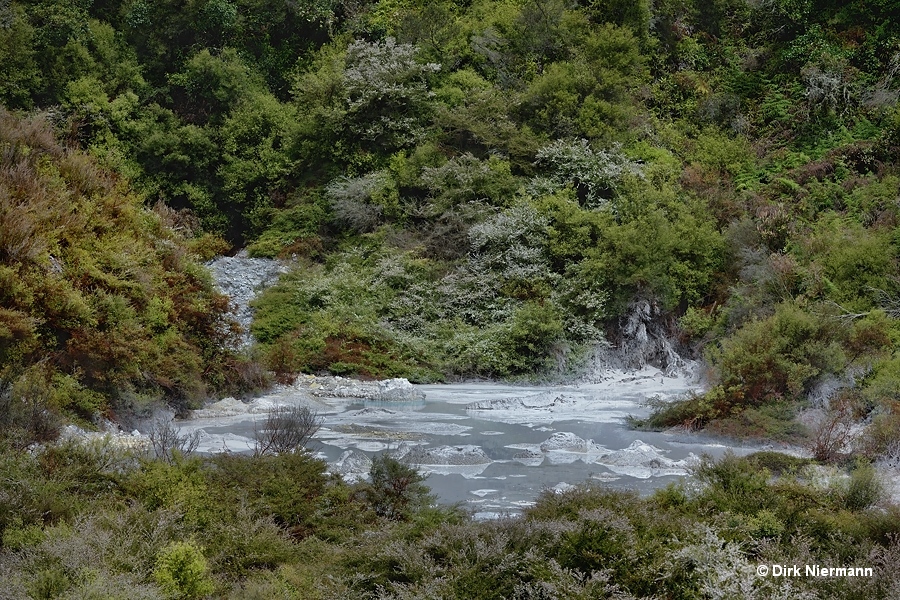 Over an area of about 3 × 1.2 km (1.9 × 0.7 mi) along the Paeroa Fault Zone, the Te Kopia Scenic Reserve host many further geothermal features such as bright red acidic hot springs, steaming ground, fumaroles and mud pools. They are mainly located south of the tourist area, some of them even hidden high up in the Paeroa Range. However, the territory is quite steep and dangerous, so access is not permitted.
Content and photos on this homepage are protected by law. You may save photos on your Computer, but it is not allowed to use them in any other case without permission of the author. If you want to use photos originated by the author, please ask. Please respect licence conditions of photos of third parties on this homepage.