Orakei Korako - page 3
The area between the cluster around Twin Pools in the west and Palette Pool in the east is occupied by many smaller pools and some dry vents. Several of these features come with a history as a geyser. In total around 20 geysers were detected on Artist's Palette since 1995 (A.D. Cody, Geodiversity of geothermal fields in the Taupo Volcanic Zone, 2007). Earlier geysers were described by Edward F. Lloyd in the 1970s (E.F. Lloyd, Geology and Hot Springs of Orakeikorako, New Zealand Geological Survey Bulletin 85, 1972). Lloyd also provided the code numbers for the features at Orakei Korako, which are still in use today.
The next picture shows former geysers around Twin Pools. On the righthand side, the loosely connected, somewhat smaller but deep blue spring 772 can be identified, which erupted up to 7 m (23 feet) before 1961. Close to the lower image edge in centre of the picture, spring 779 is recognisable. A few metres left of it once the Twin Geysers (S777 and S778) were to be found. Their vents obviously have been filled in. Between 1946 and 1952 spring 777 was seen erupting 10 m (33 feet) and spring 778 up to 8 m (26 feet) high.
Twin Pools on the lefthand side, spring 779 in centre close to the lower edge of the picture, spring 772 on the righthand side:
On Artist's Palette only very few springs were named because the high geothermal dynamics made most of them come and go quickly and their activity temporal. Furthermore, the sinter crust on Artist's Palette is highly fragile so the features are not accessible to closer scientific investigations. Thus, in many aspects this area is similar to the Porcelain Springs of Norris Geyser Basin in Yellowstone.
On the following three pictures some of the more conspicuous pools in this area are shown, identified by their Lloyd-numbers.
Springs 785 to 787 southwest of Palette Pool: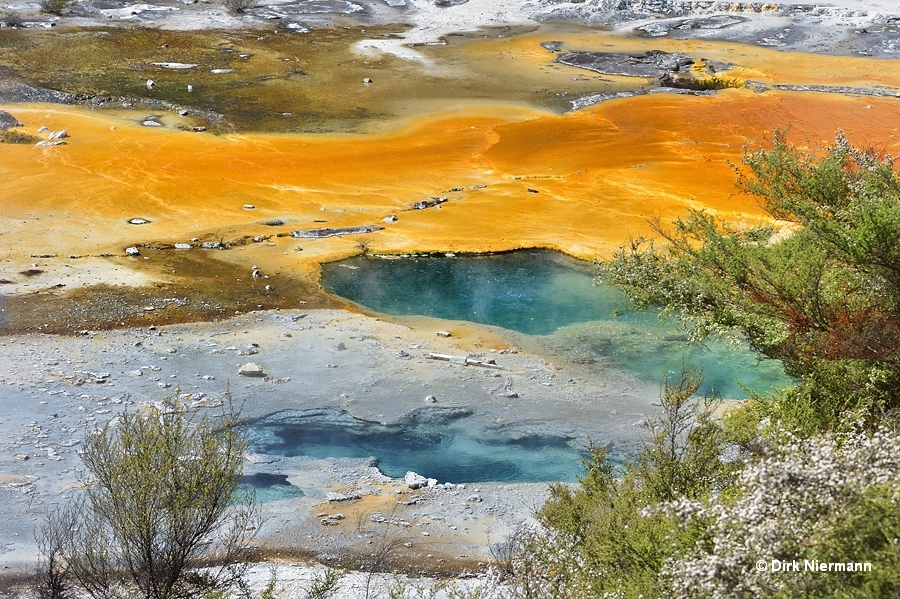 Bridget Y. Lynne published a detailed monitoring report about springs in the Waikato region, which for Spring 760 lists geyser eruptions of approximately 10 m (33 feet) height in 1996 and 2002 (B.Y. Lynne, Monitoring of Geothermal Features, Environment Waikato Technical Report 2009/25).
Spring 760 west of Palette Pool:
In the same report Square Pool is described as repeatedly geysering, at last for 2005 with a height of up to 3 m (10 feet).
Square Pool (S742) northwest of Palette Pool:
Besides dormant or extinct geysers we succeeded in observing a large active geyser on Artist's Palette. It is located around 40 m (130 feet) northeast of Palette Pool in direction of a sinter formation called Pyramid of Geysers. Approximately every 70 minutes the spring erupted from a hydrothermal explosion crater to a height of 3-4 m (13-16 feet). We witnessed 3 eruptions of 70-90 seconds duration each. Compared to the map published by Edward F. Lloyd, the geyser is at least very close to spring 797, if not exactly on the spot. The greenish coloured pool in front of the geyser is probably spring 796, about which Lloyd wrote: "Spring 796 erupted several times after it broke through in October 1959 but became a quietly discharging spring within a few days."
Unnamed geyser, erupting on Artist's Palette on 21st November 2019: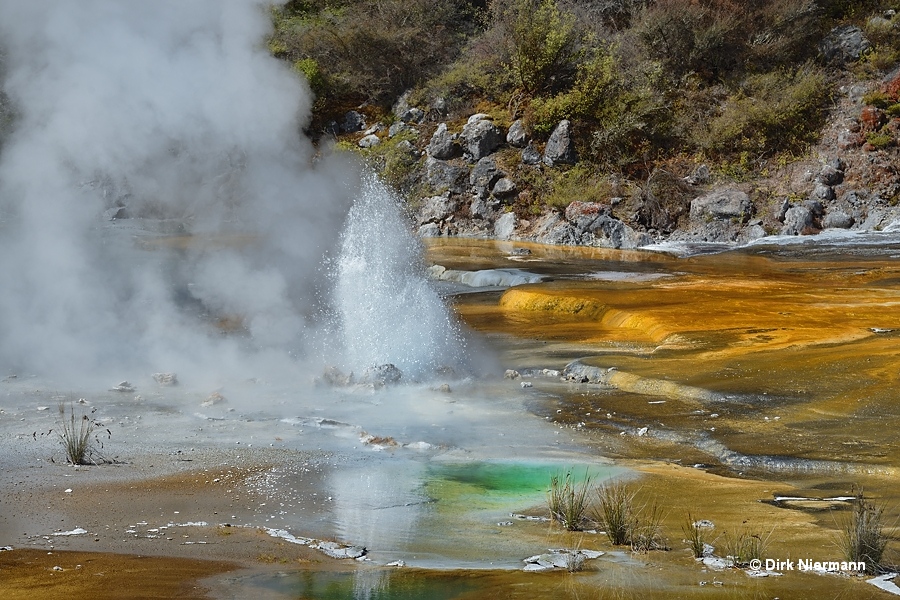 Geyser erupting on Artist's Palette
Prior to the eruption the pool was filled with blue water, afterwards it drained, at least as far as we could spot it from the trails.
Unnamed geyser on Artist's Palette, prior to eruption: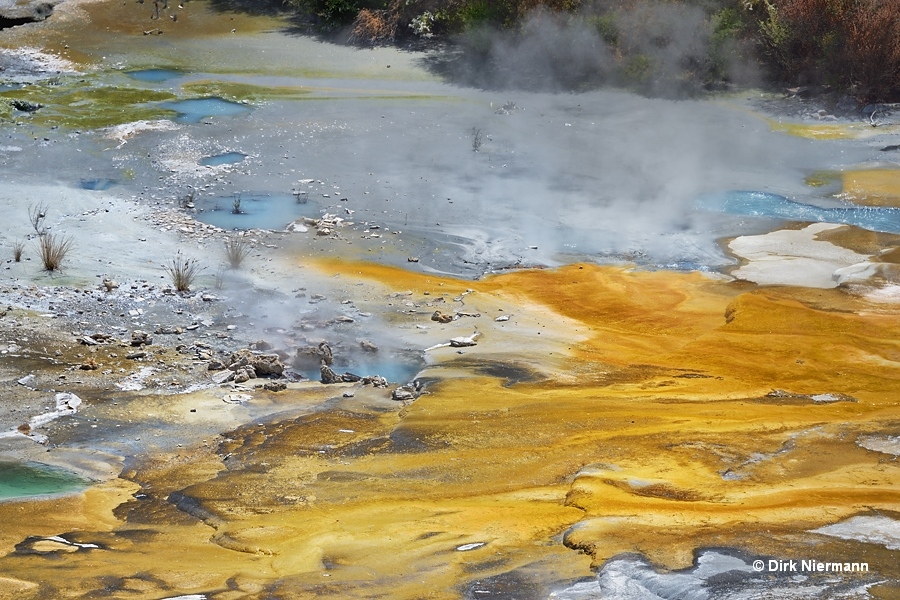 Beyond the described geyser some pools at the northern margin of Artist's Palette displayed bluish clouded water, what distinguished them from all the other springs in the area.
Bluish clouded pools on Artist's Palette, in centre probably spring 806: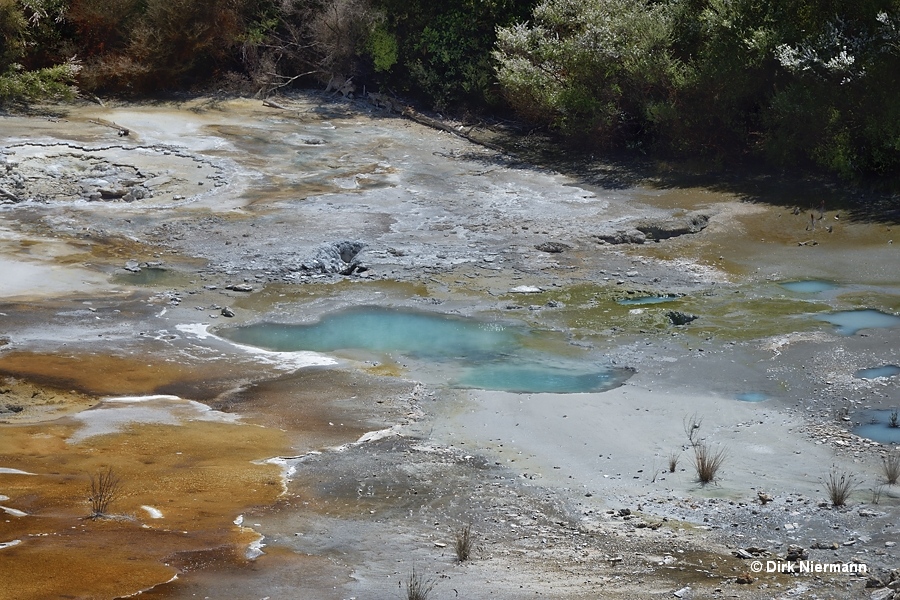 The northeastern edge of Artist's Palette hosts a rougly triangular sinter formation, which extends up the slope of a forested hill. Apparently, some authors apply the name Pyramid of Geysers to the complete formation, others to the spouter at the foot of the formation, and still others to the spouter on top of the formation. In the Environment Waikato Technical Report 2009/25 the designations are Pyramid of Geysers, Top Vent, and Bottom Vent, which I took over here.
Pyramid of Geysers on the righthand side, the active geyser described above on the lefthand side:
The entire sinter formation is peppered with small springs. Lloyd mapped nineteen ones in the 1970s, but it can be assumed that not all of them were discharging at the same time and that over time many have disappeared and new ones popped up.
Pyramid of Geysers seen from the west:
The Bottom Vent at the foot of Pyramid of Geysers is a quite large spouter out of a nearly circular, shallow pool. When it is not dry, the activity varies reportedly between perpetual spouting and geysering. We saw it playing perpetually.
Bottom Vent of the Pyramid of Geysers: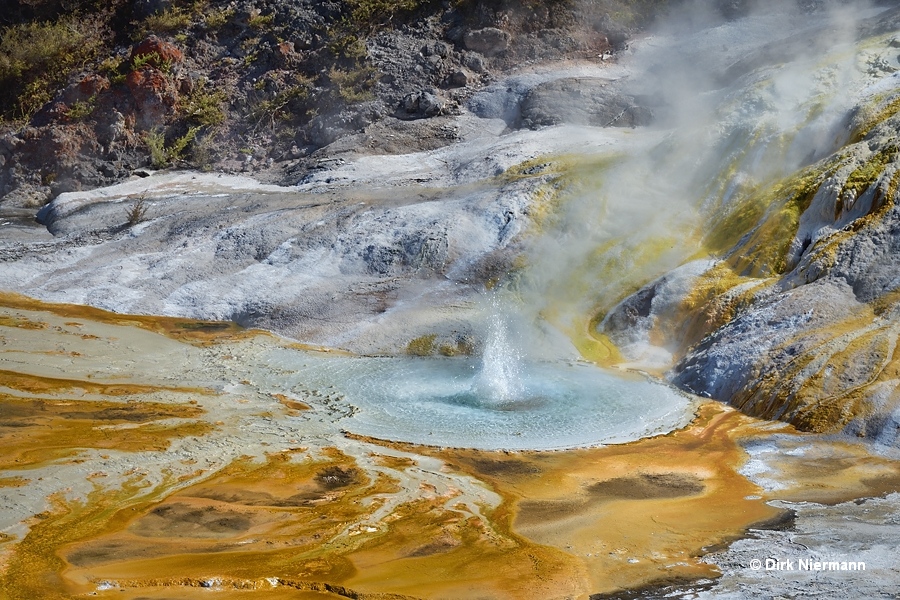 In a similar fashion as the Bottom Vent acts the current Top Vent of the Pyramid of Geysers, which developed in 2001. Differences arise in the angled direction of the water jets and their lesser heights. Interestingly, on the right side above the active vent (near the upper right corner of the picture) a grey crater is visible, which probably was another active vent in the past.
Top Vent of the Pyramid of Geysers:
From the Pyramid of Geysers, Artist's Palette also extends far to the southeast. This area includes fewer hot springs, however, they are not less colourful. Approximately halfway between Pyramid of Geysers and spring 832, which is shown on the next picture, in 1958 and 1959 spring 826 exhibited eruptions of up to 25 m (82 feet) height. Nowadays, the vent of S826 has disappeared.
Close-up of quiet hot spring 832 in the southeast of Artist's Palette:
Upwelling hot spring 830 in the southeast of Artist's Palette:
Boiling hot spring 828 in the southeast of Artist's Palette:
Approximately 100 m (330 feet) away from Artist's Palette in southeastern direction and farther uphill Ruatapu Cave (Sacred Cave) can be visited. It is one of only two caves in the world known to exist in a geothermal field. At an angle of 30° the cave leads down for 49 m (161 feet) to the triangular Waiwhakaata Pool (Reflecting Water) or The Pool of Mirrors. Looking down from the viewing platform this feature seems to be quite small, but the front side of the pool is about 8 m (26 feet) wide and the surface extends 4 m (13 feet) far into the cave. Waiwhakaata Pool contains greenish, acidic water of 43-48 °C (109-118 °F). Difficult to detect from the viewing platform are the two ephemeral pools. On the righthand side (east) of Waiwhakaata sits a small pool, while on the lefthand side, around 10 metres (33 feet) in front of Waiwhakaata, a subsidiary chamber branches off, which encloses a further thermal pool of nearly the same size as Waiwhakaata.
View down into Ruatapu Cave towards Waiwhakaata Pool: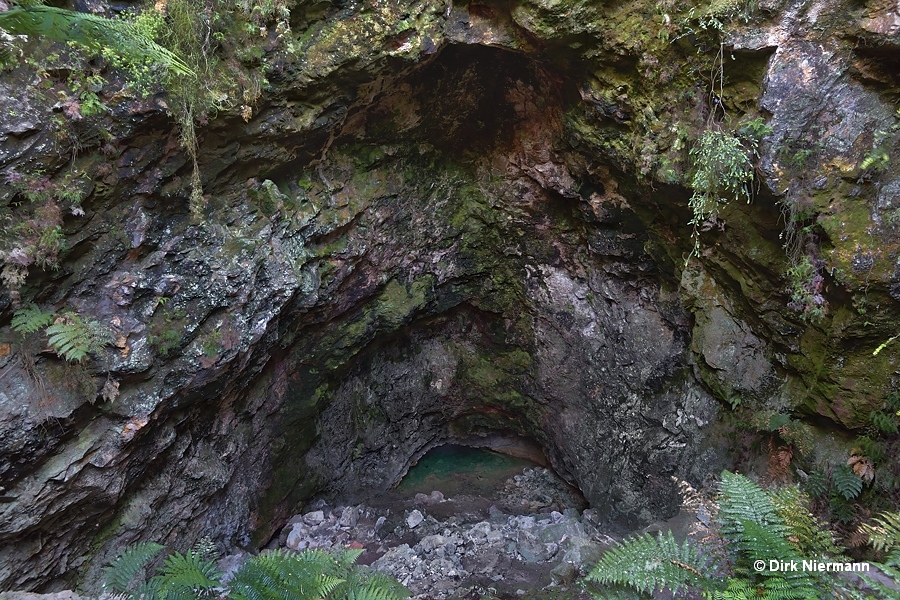 Ruatapu Cave
As already indicated by the case of Ruatapu Cave, the geochemistry east and southeast of Artist's Palette changes from alkaline, water-dominated hot springs to acidic, vapour-dominated systems. Accordingly, this area includes mostly mud pots and fumaroles. The trail gives access to two examples, the Kōhua Poharu (Mud to Host Cooking Pot) mud pools.
Kōhua Poharu, northern mud pot: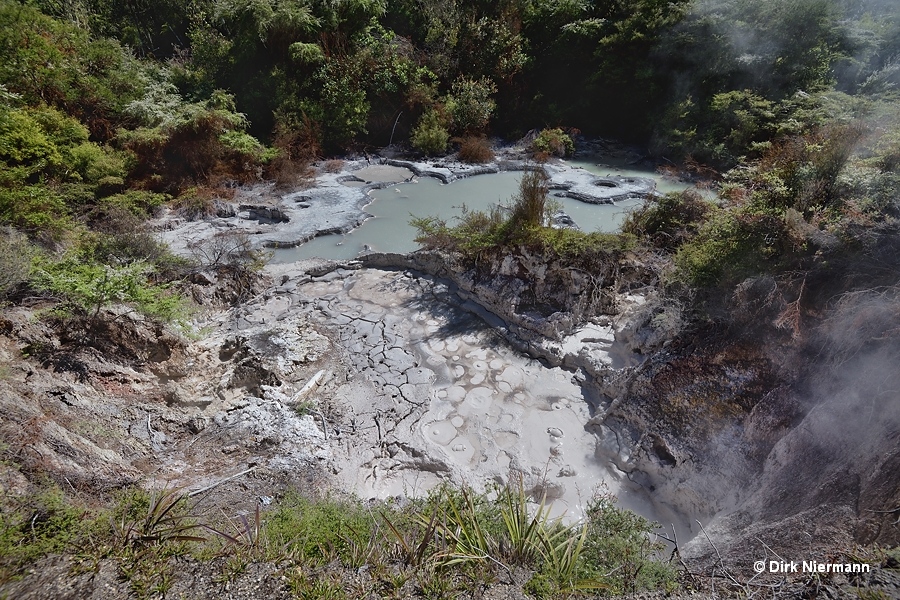 Kohua Poharu

Kōhua Poharu, southern mud pot:
Kohua Poharu
Content and photos on this homepage are protected by law. You may save photos on your Computer, but it is not allowed to use them in any other case without permission of the author. If you want to use photos originated by the author, please ask. Please respect licence conditions of photos of third parties on this homepage.