Page 1 2
The geologic fracture, along which the Rabbit Highland Hot Springs are lined up, runs almost absolutely straight from southwest to northeast. There is a distance of approximately 150 m (500 feet) between the northernmost "Tomato Soup" MNN020 and the next large spring, MRCHSGNN234. It lies on a somewhat larger terrace, but due to the wet ground we preferred hiking along the eastern hillside. MRCHSGNN234 may look like an ordinary cold water spring, but at least one vent on the bottom of its northern section (on the photo right) is listed as a thermal feature with a temperature around 60 °C (140 °F).
We followed the hillside northeastwards up to a point with a good view over the large hot spring MRCHSGNN233. This one is noticeably steaming and significantly hotter (75 °C, 167 °F) than MRCHSGNN234, which receives its discharge water.
From here on, a series of fancifully colored springs begins, which are without comparison in Yellowstone. Not all of them are true thermal springs, but some act as collecting pools for the mineral-rich water of adjacent hot springs. The next photo shows six thermal features, from MRCHSGNN227, the red spring on the left side, through to MRCHSGNN222 (right), in front of a large, vividly colored, non-thermal collecting pool.
On the east side, MRCHSGNN221 completes the stunning scenery and permits a close look at one of the thick, sponge-like iron oxide linings that cover the bottom of many other springs, too. Typically, these small red features exhibit temperatures between 50 °C and 80 °C (120 - 175 °F).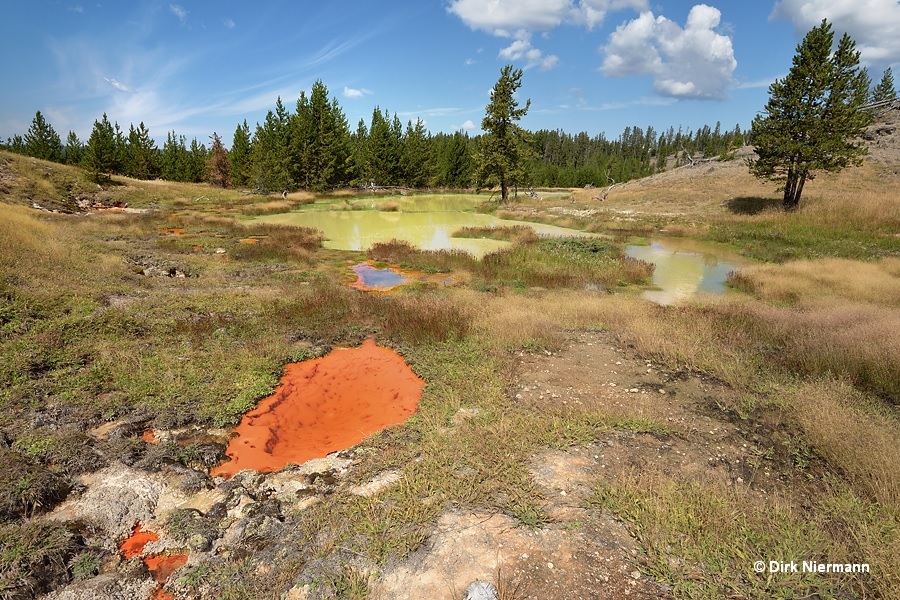 Even a few feet further east the almost crystal clear, slightly bubbling spring MRCHSGNN218 shows up.
West of the little butte shown on the pictures above a collection of small paint pots appears. The colors of the slightly bubbling features are ranging from pink to red.
The next features, springs with colorful sediments on their bottoms, are located only a few feet north.
Adjacent to them two completely different springs lie side by side, a phenomenon already observed earlier on the hike through the Rabbit Creek drainage and Rabbit Highland.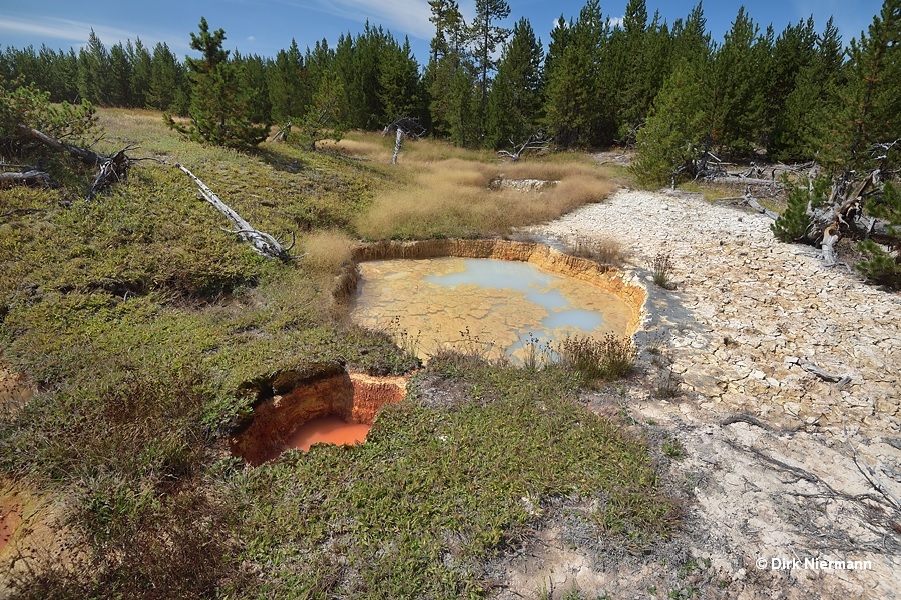 Farther to the northeast attractive non-thermal springs are picturesquely nestled in a park-like landscape.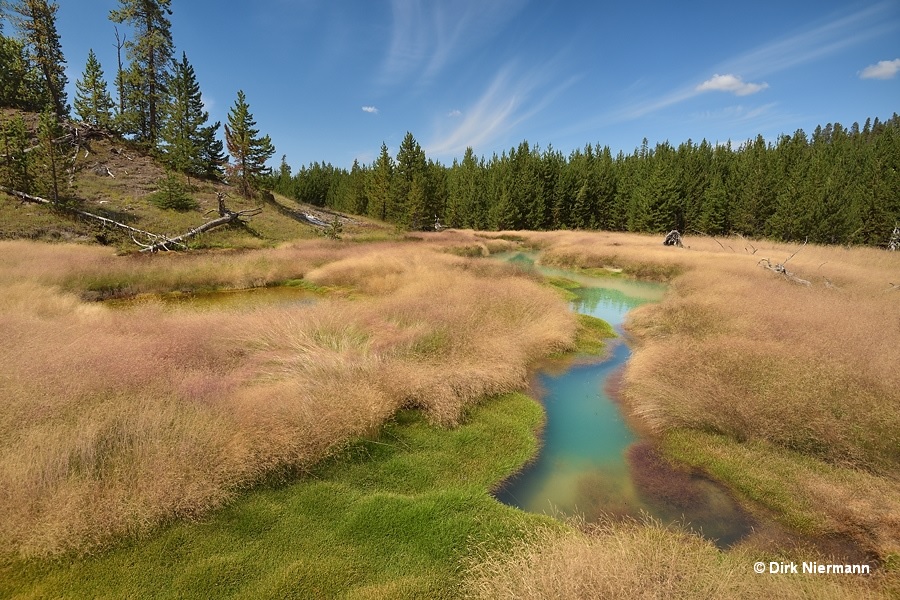 The last remarkable and at the same time northeasternmost feature on this hike is the paint pot MRCHSGNN207. It is strange, but somehow the color pattern reminds of the animation character Pink Panther.
Page 1 2