Waimangu - page 2
Inferno Crater was formed in the 1886 Tarawera Rift eruption by an explosion of the southwestern slope of Mt. Haszard. Today the crater is occupied by Inferno Crater Lake, whose water level is oscillating weakly on a short term cycle, but strongly over 12 metres (39 feet) on a long term cycle of about 38 days. Some of the long cycles result in an overflow while others don't (for an extensive description see B.J. Scott, Characteristic of Cyclic Activity in Frying Pan and Inferno Crater Lakes, Proc. 14th New Zealand Geothermal Workshop, 1992). The cyclic activity of the lake is caused by the giantic Matua Geyser (Father Geyser) in its bottom and may be a faint echo of the extinct Waimangu Geyser, which once was directly linked to Matua. Since latter is submerged and thus obscured from view it is classified as Crypto Geyser.
A complete cycle includes 4 stages. In stage 1, over approximately 8 days the water level rises by up to 6 m (20 feet) and the water temperature rises by up to 21 °C (70 °F) to result in a lake temperature of up to 50 °C (122 °F). During the second stage, which lasts around 14 days, the rise of the water level and the temperature slows down and oscillates to reach a lake temperature of approximately 60 °C (140 °F). Stage 3, lasting only 2-3 days, is characterised by a further temperature increase, sometimes exceeding 70 °C (158 °F) and often accompanied by a massive overflow. Eventually, over a period of some 15 days, stage 4 let the water level recede by up to 8 m (26 feet) below overflow and let the temperature drop to values around 40 °C (104 °F). During stage 4 and early stage 1 the lake may show a brilliant blue colour due to low turbulences, while in the other stages the water appears pale blue and clouded.
Inferno Crater Lake at the end of stage 2:
Inferno Crater Lake
On overflow hot water from Inferno Lake cascades down a steep channel to join the Hot Water Creek coming from Frying Pan Lake. There is an inverse relationship between both lakes by the fact that during high water levels of Inferno Crater Lake the discharge of Frying Pan Lake decreases, and when Inferno Crater Lake recedes the discharge of Frying Pan Lake increases. Anyway, all the outflow travels along Hot Water Creek whose banks are densely populated by small hot springs and their sinter terraces. One of the first downstream the overflow channel of Inferno Crater Lake is Bird's Nest Spring on Bird's Nest Terrace.
Bird's Nest Terrace:
Bird's Nest Terrace
Bird's Nest Spring is a perpetual spouter of up to 1.2 m (4 feet) height and undoubtedly one of the most beautiful features of the Waimangu Rift Valley.
Bird's Nest Spring: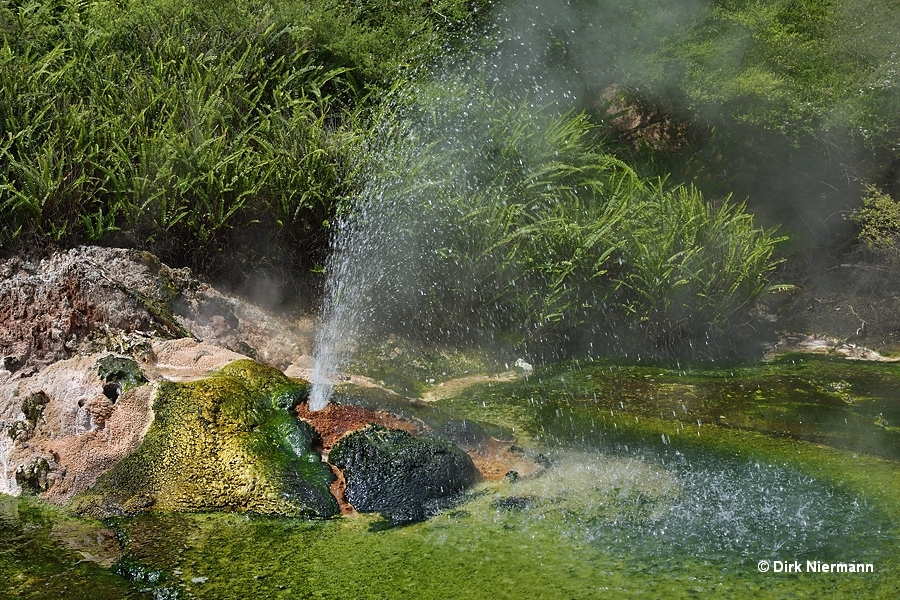 Bird's Nest Spring
A second sinter terrace on the bank of Hot Water Creek follows within a very short distance. It is colonised by green, orange, and brown cyanobacteria, which indicate the different temperature zones of the discharging water film.
Sinter terrace at Hot Water Creek:
Apparently, different springs contributed to its developement. The most eyecatching of them is a small perpetual spouter in the eastern section. To spot the spouting activity you have to look very closely because it is only 30 cm (1 foot) high.
Spouter on sinter terrace at Hot Water Creek: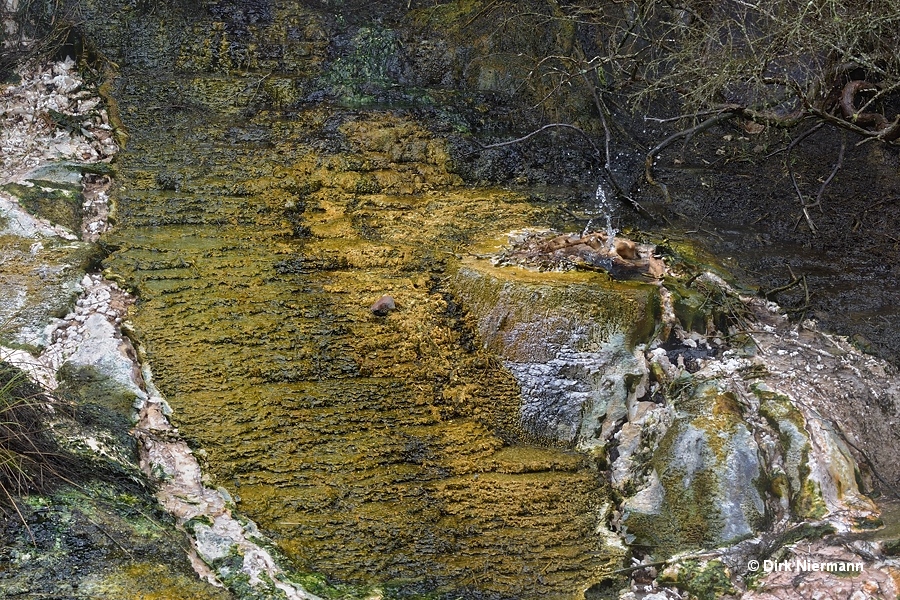 In the further course of Hot Water Creek another perpetual spouter can be detected. Not far from the first one, reddish brown sinter encrusts what may once have been tree roots and some branches. The spring in its centre spouts every few seconds up to 60 cm (2 feet) high.
Hot Water Creek Spouter 2 erupting and quiet (roll mouse over picture):
Named after the shape of its bowl, Clamshell Spring occupies the southern bank of Hot Water Creek farther to the east. Ranging within temperatures of 75-98 °C (167-208 °F), its activity varies between slight upwelling and gentle boiling. Actually, there is nothing exceptional with this spring, but due to its easy accessibility, high temperature and pronounced alkaline chemistry Clamshell Spring often was selected for conducting chemical and bacterial analyses. A correspondingly large number of data are available.
Clamshell Spring:
Clamshell Spring
After passing Clamshell Spring the Hot Water Creek continues through a deep natural trench with walls of silica stalactite formations. Most of this section is not observable because the trail detours to join the creek again about 350 m further ahead. There, close to a a bridge crossing the creek, a few additional hot springs can be spotted lying on the bank.
Springs at Hot Water Creek close to the bridge:
Then, for a distance of 600 m (660 yd), no further hot springs occur. Worth mentioning is a little waterfall with pronounced stalactites within Hot Water Creek on the opposite (southeast) side of the bridge.
Hot Water Creek cascade: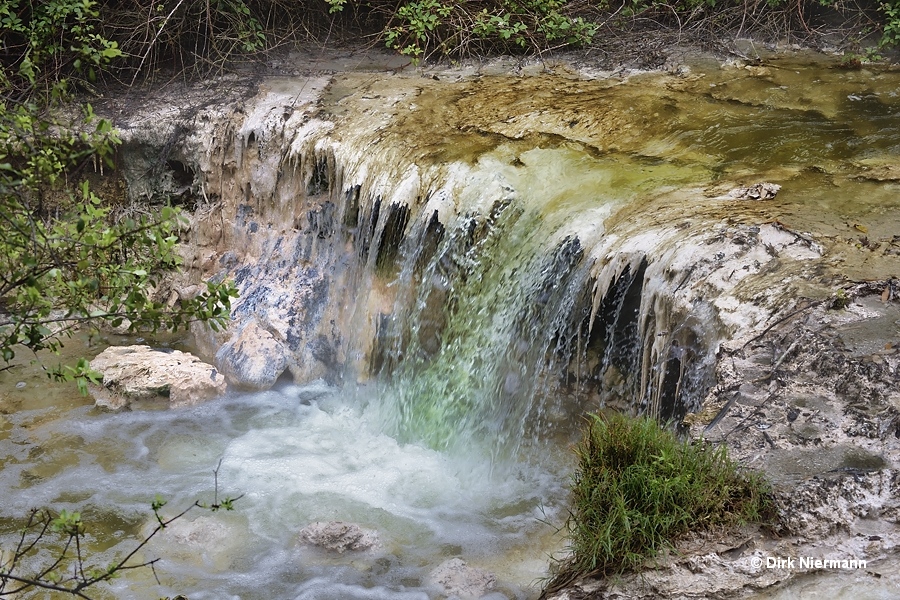 Soon after, the trail splits into a southeastern route along Waimangu Steam and a partially steep, northwestern route, running 1.8 km (1.1 mile) along Raupo Pond Crater, Fairy Crater and Black Crater. All of them are dry now and overgrown by bushes and trees. When the routes unite again the trail proceeds along Waimangu Stream. However, the bus follows a different route, lined by three important springs, which is closed to pedestrians. The first two of them, Puara Spring and Cave Spring, can only be observed from the bus while driving by. In case of Puara (derived from Pua = Foam) I succeeded in capturing a decent picture, but I missed out Cave Spring one hundred metres northeast because it is located on the other side of the road.
The alkaline, carbonate rich water of Puara Spring deposits siliceous sinter and forms the Puara Terrace, which is much smaller than Marble Terrace farther to the northeast.
Puara Spring and Puara Terrace:
Puara Spring
On the way to Marble Terrace you pass some small and unnamed hot springs close to Waimangu Stream. The following photo shows an example.
Unnamed hot spring next to Waimangu Stream: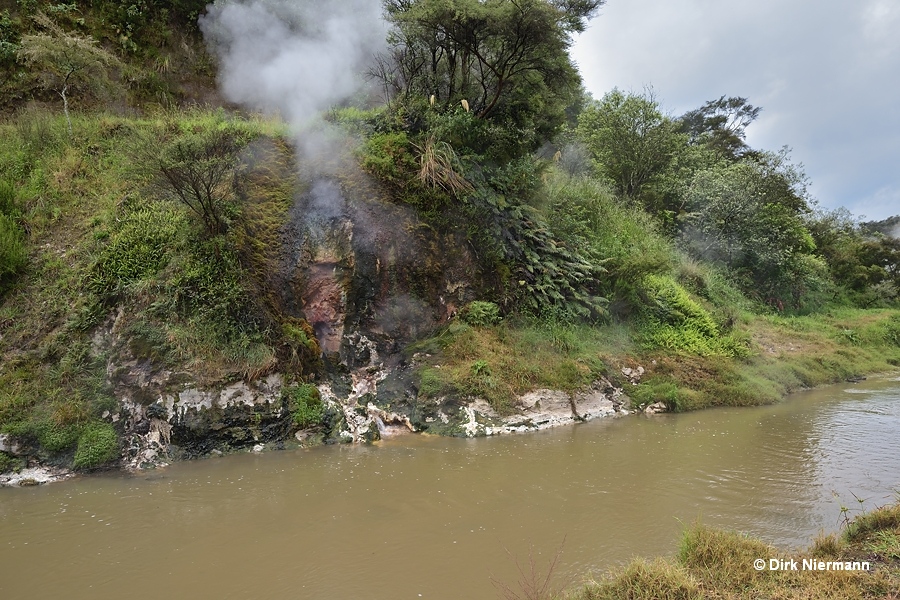 The large Marble Terrace is located west of the trail across Waimangu Stream. Sinter formations at the front edge of the terrace, called buttresses, force Waimangu Stream to curve around them on its way to Lake Rotomahana.
Marble Terrace and buttresses:
Marble Terrace and buttresses
The architect of Marble Terrace, Iodine Pool, sits at its far side behind the bus lane as seen from the trail. Accordingly, in addition to the dense steam a quite large distance impedes observations of Iodine Pool from the trail. On the other hand it can be seen from the bus, but the bus driver usually doesn't make an extra stop here. Iodine Pool discharges significant quantities of nearly boiling, alkaline and silica-saturated water, which generates a dark brown film of microorganisms on all overflowed surfaces. This effect, together with the brown coloured rockface in background, is the reason for its name.
Iodine Pool as seen from the hiking trail:
Iodine Pool
Iodine Pool is not a single spring, but the setting includes a vent on the lefthand (southwest) side in the backwall, a geyser on the righthand (northeast) side at the foot of the wall and a collecting pool in front. This pool is approximately 7 m (23 feet) in diameter and up to 2 m (6.6 feet) deep. The vent in the backwall mostly acts as a fumarole, at other times as a perpetual spouter. Iodine Geyser is described to erupt between 0.7 and 2 m (2.3-6.5 feet) high with intervals ranging from 10-12 minutes. At times it seemed to be a perpetual spouter. Of all the eruptions we observed a few were definitely higher than 2 metres. We later heard from a guide that the height had increased since the water level of the spring had receded. Intervals ranged between 15 and 30 minutes, whereby the quiet times were 6-8 minutes.
Iodine Geyser on 18th November 2019 with different eruption heights (roll mouse over picture):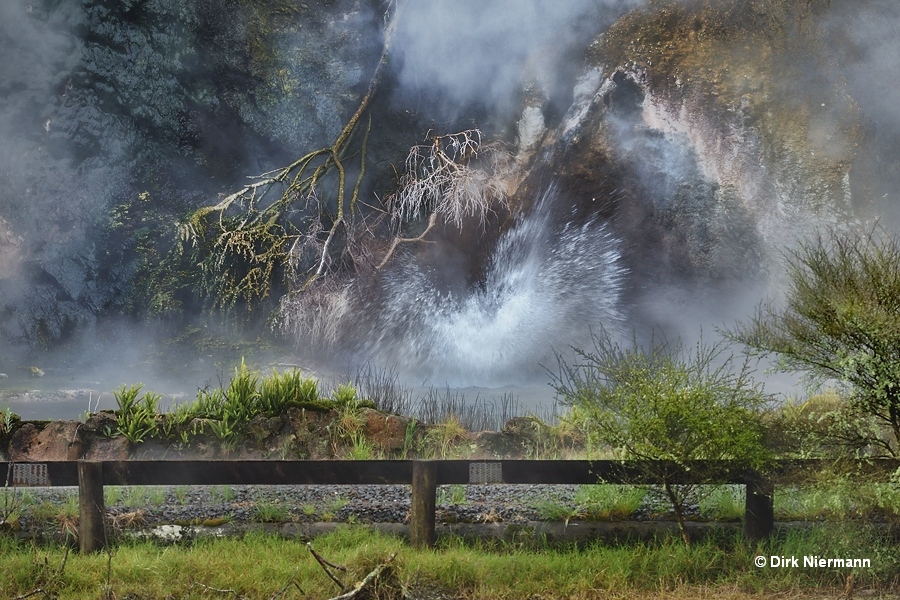 Content and photos on this homepage are protected by law. You may save photos on your Computer, but it is not allowed to use them in any other case without permission of the author. If you want to use photos originated by the author, please ask. Please respect licence conditions of photos of third parties on this homepage.